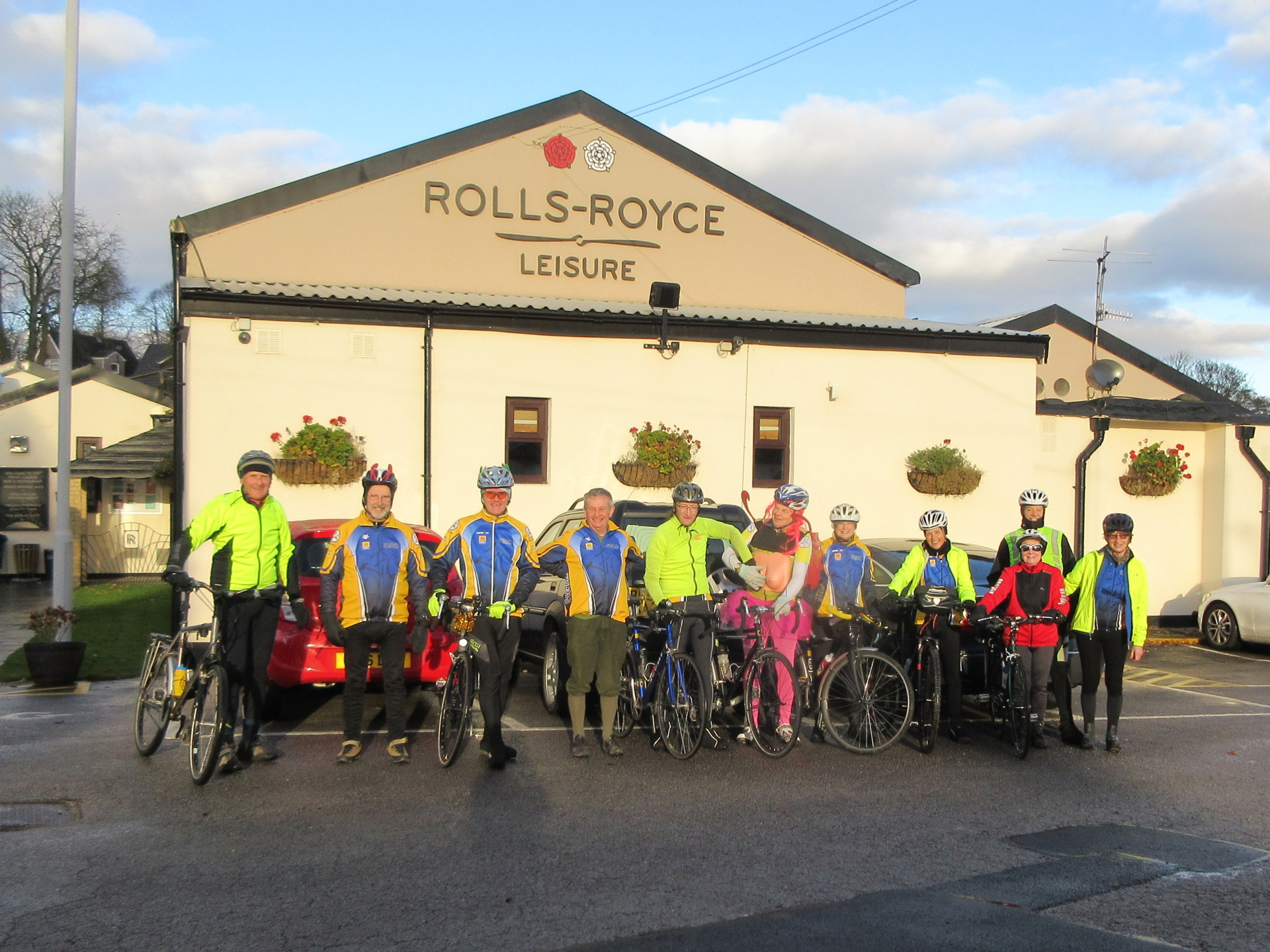 Sunday 3rd December 2017 was our annual Christmas Diiner ride.
This year we had once again booked into the Rolls Royce Social Club in Barnoldswick, where we set of for a short ride at 10am to work up an appetite for our meal at 3pm.
Twelve riders rode out today, heading through Barnoldswick to Paythorne and on to Hellifield for toasted teacakes and coffee. We then headed on to Airton, returning via Gargrave. It was quite a mild day, with plenty of sunshine putting us in a good mood for our dinner. 
As is traditional, some riders decorated their bikes with tinsel, and others decorated themselves...
After the ride, other members joined us for our annual Christmas Diiner...
To round off a great day day, awards were presented to those that had completed our four challenge rides which were held earlier in the year.
50km Challenge
50mile Challenge
100km Challenge
100mile Challenge

Harry Taylor
David Tinker
Tim O'Brien
Peter Catterall
Mick Stone
Carol Higgins

Harry Taylor
Pamela Prenton
Lesley Windsor
David Tinker
Jim Duerden
Jackie Duerden
Margaret Brown
Andy Evenson
Mark Clegg
Mick Stone
Jim Cooper
Sandra Johnson
Hary Taylor
Mark Clegg
Jim Duerden
Jackie Duerden
Mick Stone
Jim Cooper
Dorothy Altham
David Tinker
Mark Clegg
Mick Stone
Jim Cooper
Pete Bradford
John Yardley
Finally, the Bill Heywood trophy was awarded to Pamela Prenton for her determination to continue earlier in the year, and the Jack Harrison trophy was awarded to Mick Stone for being the only rider to complete all four of our challenge rides.
Congratulations to all our prize winners.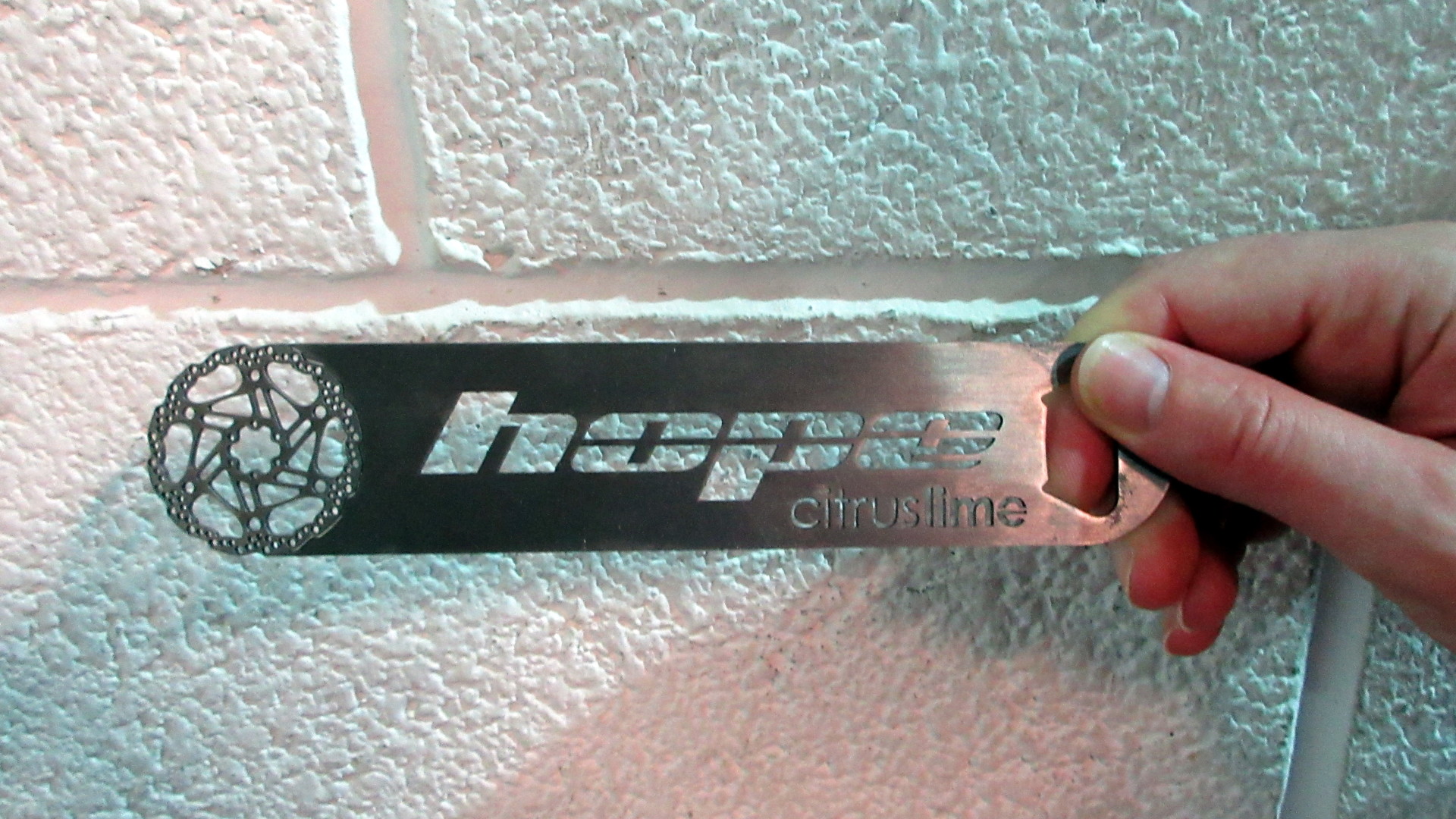 On 18th September, six of our members visited Hope Technology in Barnoldswick.
Hope Technology is one of the world leaders in engineering bicycle components, designing, testing and manufacturing virtually all products in-house at their factory in Barnoldswick, We were privileged to be allowed access to the shop floor where state of the art technology was producing their latest components and complete bikes.
Rows of CNC cutting and milling machines start out with cast ingots of alloy, turning and shaping them into hubs, and brake calipers whilst other machines produce disk brakes from hardened sheets or steel. All waste metal is compated into small bales, and sent for recycling.
In the Carbon fabrication room, sheets of carbon fibre are cut and moulded to produce seat posts, handlebars, and complete frames. The pictures show a seat post mandrel, wrapped in approximately 20 separate carbon sheets and ready to be clamped into its mould prior to oven treatment to fuse and set the resin.  The frame has just come out of the mould and is ready for finishing and polishing.
We were then shown how quickly a wheel can be built and trued. A technician feeds the spokes throught the rim, where the lacing machine attaches the spoke nipple and tightens it. A second machine then spins the wheel, stopping it periodically to adust tension and alignment. Final truing is carried out by hand, the whole process taking less than five minutes.
Finally, we'd like to say a huge Thank You to Hope Technology (http://www.hopetech.com/) for allowing us this unique and fascinating opportunity.