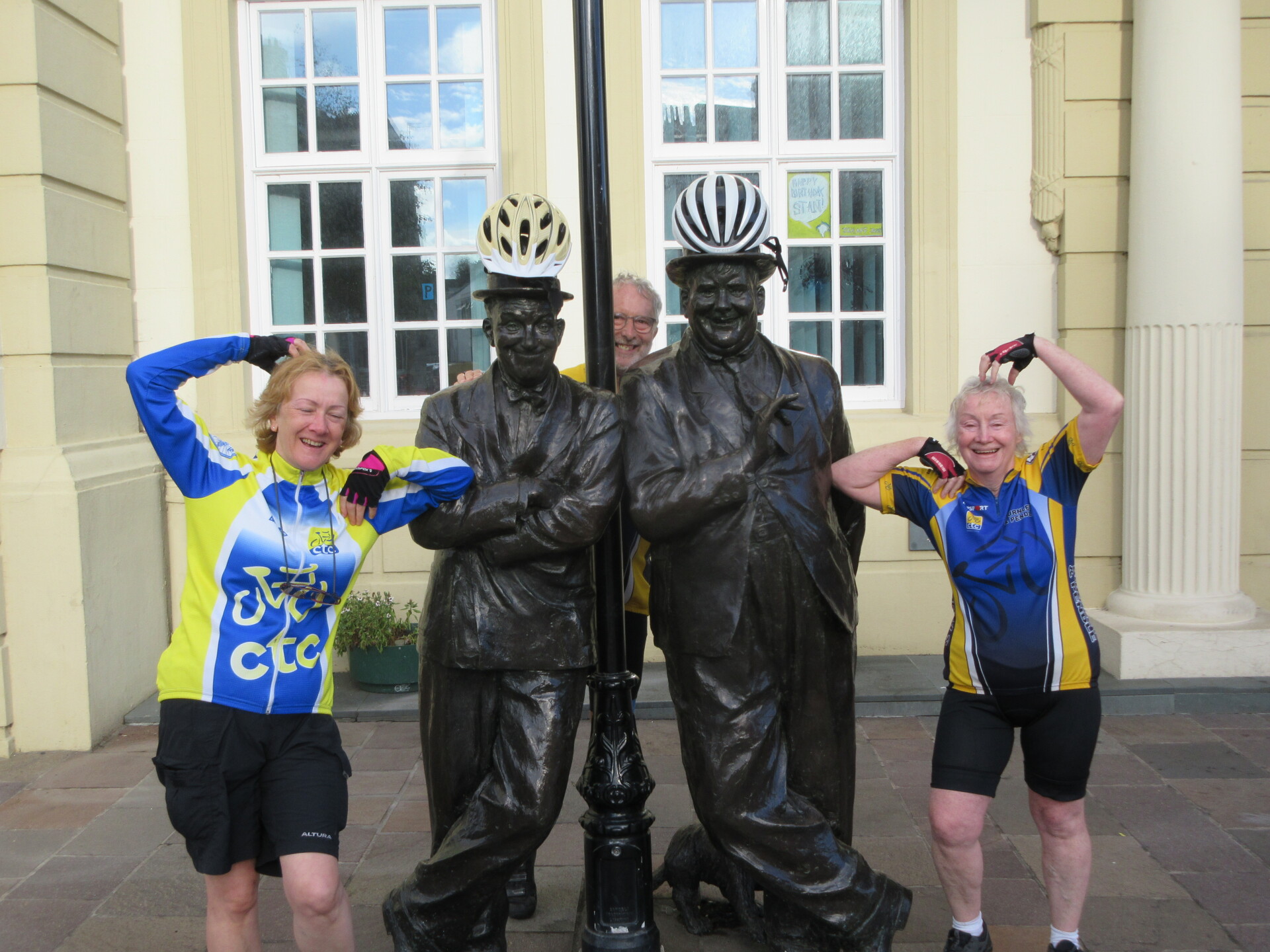 It's hard to believe it's two years since our last weekend away. Having got club runs up and running again in June, it was about time we had another weekend away, so eight of us opted for a couple of days in South Lakeland. basing ourselves in Ulverston, with six staying in the Premier Inn, and a further two at Bardsea Leisure Caravan site just down the road.
Saturday (A Group)
by Mark Clegg
Jim, Jackie, Chris, Sue, and myself were joined by daytrippers: John, Peter and Tina, bringing us up to eight riders, heading south to the coast at Bardsea in just a hint of mist and drizzle, but not enough to put anybody off. We followed the undulating coast road to Rampside, then along Roa Island Road to Roa Island and a photo opportunity by the Barrow Lifeboat Station.
Continuing along the coast we heading into industrial Barrow-in-Furness for lunch in Morrisons (They were completely out of Pies!) before crossing the bridge to explore Walney Island.
By this time the sun was out, and layers were discarded as is was warm enough for us to make the return journey in short sleeves. We could even make out Heysham Power Station right across Morecambe Bay.
Returning by the same route, we stopped for Ice Cream at Moat Farm enjoying clear views across for bay from their private beach.
Overall, 41 miles covered, and 1000ft of climbing. It was surprisingly undulating, considering we were hugging the coast most of the time.
Saturday (B Group)
by Jim Cooper
Three of us in the B group, Sandra, Dorothy and myself. On Saturday we climbed to Broughton in Furness and a brew stop, then a tough ride over Broughton Moor, unfortunately the fell was in the mist so we didn't get the views. Dropping down into Torver we rode along the eastern shore of Coniston Water to the Bluebird Cafe on the lakeshore. By this time light rain was falling so it was into the Cafe for a snack. Through town to Monk Coniston and then the narrow road along the eastern shore. We stopped off to see the Anthony Gormley Statue at High Nibthwaite. Returning then to Ulverston we worried about the hedge trimming going on and punctures, however we survived. Via Penny Bridge thanks to navigation by Sandra and the magic map with my missed turnings we rode back to Ulverston. A tough ride of steep hills we covered 41 miles with 3900 ft of climbing. Overcast day but warm light rain showers at times, a very enjoyable day ride.
Sunday (A Group)
by Mark Clegg
On Sunday, we split into the same two groups, and without the daytrippers, that left five riders heading north to Coniston, for a clockwise tour of the lake. Today would be a little hillier than Saturday, but the weather was pretty much the same, with low cloud and damp spells. Again nothing worth worrying about.
Arriving in Coniston village, we descended to the Bluebird Cafe for lunch, then another photo opportunity at the lakeside, before starting back along the opposide shoreline, crossing our outbound track at Lowick Bridge before dropping back into Ulverston and crossing paths with the other group in search of a cafe.
Being late Sunday afternoon, it seemed we arrived at closing time, but the Ice Cream shop was still open, so we had five happy riders.
Finally we went round to County Square for some silly poses by the Laurel and Hardy statue outside Coronation Hall.
Hillier today, but slightly shorter with 33 miles covered, and 2200ft of ascent.
Sunday (B Group)
by Jim Cooper
The three of us decided to ride up the eastern shore of Coniston Water, again another wrong turning by me and a short ride along the western shore we arrived at the south of the Lake and rode north along the shore to Brantwood House, we decided the views were even better from this direction. After stopping to view the timber pier from BBC Look North we enjoyed a brew stop at the cafe at Brantwood House, the former home of John Ruskin and now a museum with lovely gardens. We were made very welcome at the cafe and stopped for a while for a chat about the steam gondola and covid with some americans before a boat full of tourists arrived so we skedaddled.
Via Monk Coniston we climbed through the National Trust woods and up past Tarn Hows, down Hawkshead Hill. After a brief look around Hawkshead we up onto Hawkshead Moor to Grizedale Forest, an expensive coffee and cake stop at the mountain bike centre we decided it was worth the expense. Proceeding down through Oxen Park and Penny Bridge we climbed up through the village of Banstead Gates. I again missed the turning to Ulverston and rode down through the woods to the bottom of the hill. Again riding back up the ladies were waiting for me. After much leg pulling about my navigation and eyesight we continued along the right route. Bumping into the other group on the hill down to Ulverston we failed to find a cafe open and willing to serve after 4.00pm we rode back to The Premier Inn for a hot shower. 38 miles covered on lovely quiet roads with lots of steep hills with 3800 ft of climbing.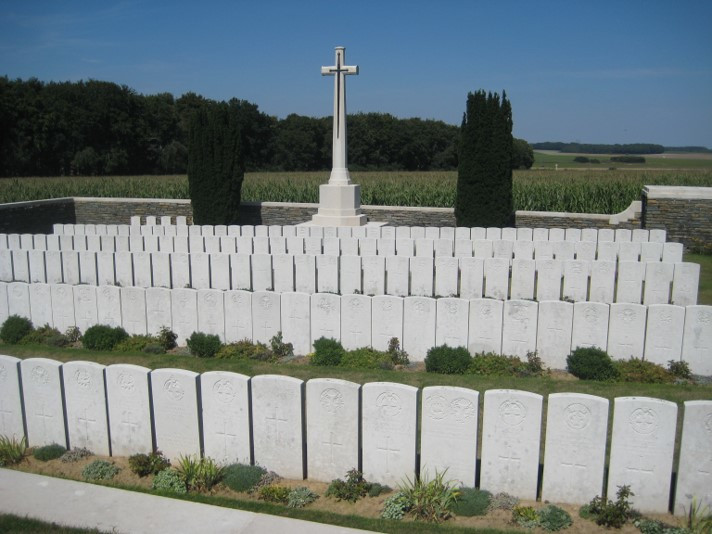 A weeks cycling and camping tour to
the Battlefields of the Somme,
by Chris Marshall.
After reading 2 excellent books (see below) about the authors' experiences of the First World War, I was inspired to visit the towns, villages and countryside that they passed through and fought over.
Both men were in 3 areas; Ypres, Bethune and the River Ancre (which is a tributary of and North of the Somme itself)
My original idea was to take the Hull to Zeebrugge ferry and cycle down the front line from the North, but this was very expensive as cabin berths are compulsory for this overnight sailing. So I chose Newhaven - Dieppe instead to start further South. (travel details below).Thi
I arrived at Dieppe at 5 a.m. after a few hours sleep on the lounge floor. I expected a port to have at least 1 early morning cafe but had to wait around in the deserted town until 0630 to get my coffee and croissant. By then it was light enough to start cycling (I'd had no intention of cycling in the dark - had no lights anyway!)
I'd plotted a rough route to the Somme front line on pages torn from the Michelin Road Atlas, which I carried on a Lidl map holder on the handlebars (I'm not into electronics!). This used all minor roads (C's and occasional D's - Departmentale, never N's - Nationale) and these were extremely quiet - in fact too quiet, as none of the villages they passed through had any sign of a cafe, bakers or other shop, so when my stomach told me to, I had to divert slightly to larger places to get a coffee and a pain aux raisins. Also, previous experience of cycle and car touring in France had led me to expect plenty of camp sites - but not this time - obviously not a tourist area! However, my route followed the Somme Canal for a stretch and I found a good site by its towpath for my first night - still no shop though. However, 3 pints of wheat beer (it was very hot), a giant bag of crisps from the bar, a litre of milk donated free by the campsite and a pasta meal from my pannier, set me up again for a good night's sleep and the next day's ride.
The terrain was mostly rolling with easier going on the high plains between rivers - generally not as hilly as our Lancs./Yorks. borders, but equally pleasant. Still a dearth of camp sites on the second day, so when I reached the first village mentioned in my book, which at least had a cafe/bar, I asked the barman if there was any sites nearby or in Albert, the town I was headed for. He knew of none, but very kindly rang Albert Tourist Office to finf there was camping, appropriately enough on the site of an old Velodrome just in the suburbs.
Albert was an important place mostly just behind our front line, although it changed hands a few times and was destroyed by artillery fire, causing most of the locals to have left by 1918. "Camping du Velodrome" was a nice site, so I decided to stay 3 nights and explore without panniers, particularly as it always seems to take a couple of hours to pitch and strike camp - which is "dead" time. It also I meant I was guaranteed access to bars, shops and restaurants. The weather was very hot (30C +) so I needed at least 3 pints and a steak to replace lost fluid and energy.
With 2018 being the centenary, there were lots of museums and other sites to visit, some new, others well established. One village had even put up wooden boards with the road names used by British troops e.g. Thirsk Rd. - obviously first named by a Yorkshire Regiment. I cycled to many of the villages I'd read about and visited excellent museums at Albert and Thiepval, the latter having a splendid animated map showing the ebb and flow of the front line over 4 years, which clarified my understanding of the situation.
I also visited several of the many small British and Commonwealth/Empire cemeteries, which are beautifully kept by The Commonwealth War Graves Commission. My northernmost cycle took me to Ayette cemetery for Indian Army soldiers and Indian and Chinese Labour Corps workers who died - a long way from home. On my back from this I visited 2 unplanned sites that I happened to pass. The first was the Newfoundland Memorial, where the trenches they occupied were still visible. Then near Serre, I came across a roadside memorial to "the Sheffield Pals" which directed me up a farm track to "Sheffield Wood". I left my bike inside one of the several small cemeteries and walked into the first of 4 copses (named Matthew, Mark, Luke and John at the time) where I found another Sheffield plaque with an engraved stainless (Sheffield) steel map of the front and description of the horror of July 1st. A memorial to "the Barnsley Pals" was a few yards on and then I spotted a red brick structure which of course was dedicated to the "Accrington Pals" Finally, even closer to home was a plaque to remember "Z Company" of the 11th East Lancs. who were "The Burnley and District Pals" (My authors had served in The Royal Sussex Regiment and The Shropshire Light Infantry, so I hadn't thought to see such local connections)
After 4 days it all became too sad, so I decide to head back to the coast early. The route back was much easier as I had used "The Veloroute de la Memoire" which ran through Albert to explore to the North and I now used to go South until I hit the Somme Canal at Corbie. From there it's a fast flat ride to the coast at St. Valery with no direction finding and plenty of services. A couple of nights at Treport and then just half a day back to Dieppe for the midnight ferry.
Postscript
Less than a week after my return we went for a weekend to Ulverston in Cumbria. On the Saturday there was a market in the main street and one of the stalls was for the Ulverston Town Twinning Association - and guess which town they were twinned with - Albert!
A few years previously they had discovered on an old map of the trenches an "Ulverston Trench" near Albert and had since placed a marker of some sort on its site. They had a copy of the map on the stall and when I studied it I found a "Pendle Hill Trench". Obviously the East Lancs. Regiment had been there!
The Books
"Undertones of War" Edmund Blunden. Known as a war poet, this is his prose account of his life as a junior officer. Mostly about the stuff in between battles.
"Her Privates We" Frederic Manning. Nominally fiction but must be based on his own experiences. His hero, although a Private, was older and better educated than his fellows and throughout the book, he is being persuaded to become an officer. Eventually and reluctantly he agrees but is killed the day before he leaves the front for training. All this was true for Frederic himself except he did become a lieutenant and was not killed. The hero in the book is clearly " a good drinker" and so was Frederic, because he was soon reduced to the ranks again for drunkenness. He was a writer and was persuaded to write the book in 1929 but by 1935 he was dead from problems caused by his heavy drinking. "The finest and noblest book of men in war that I have ever read" Ernest Hemingway
The Travel
| Tour leg... |  Outbound |  Return |
| --- | --- | --- |
| Steeton to Leeds to Kings Cross (bike had to be booked by 'phoning LNER | £18.00 | £18.00 |
| Victoria to Lewes to Newhaven (not possible to book bike but could only take it on trains after 7 p.m. to avoid rush hour) | £5.00 | £8.50  |
| Newhaven to Dieppe, 11.30 p.m. sailing. Sleep in chair or on floor. | £30.00 | £30.00 |
Camping
| Site | Nights | Cost |
| --- | --- | --- |
| Long on the Somme | 1 night | €?? |
| Camping du Velodrome | 3 nights | €33 |
| Camping Municipal Les Boucaniers | 2 nights | €17 |