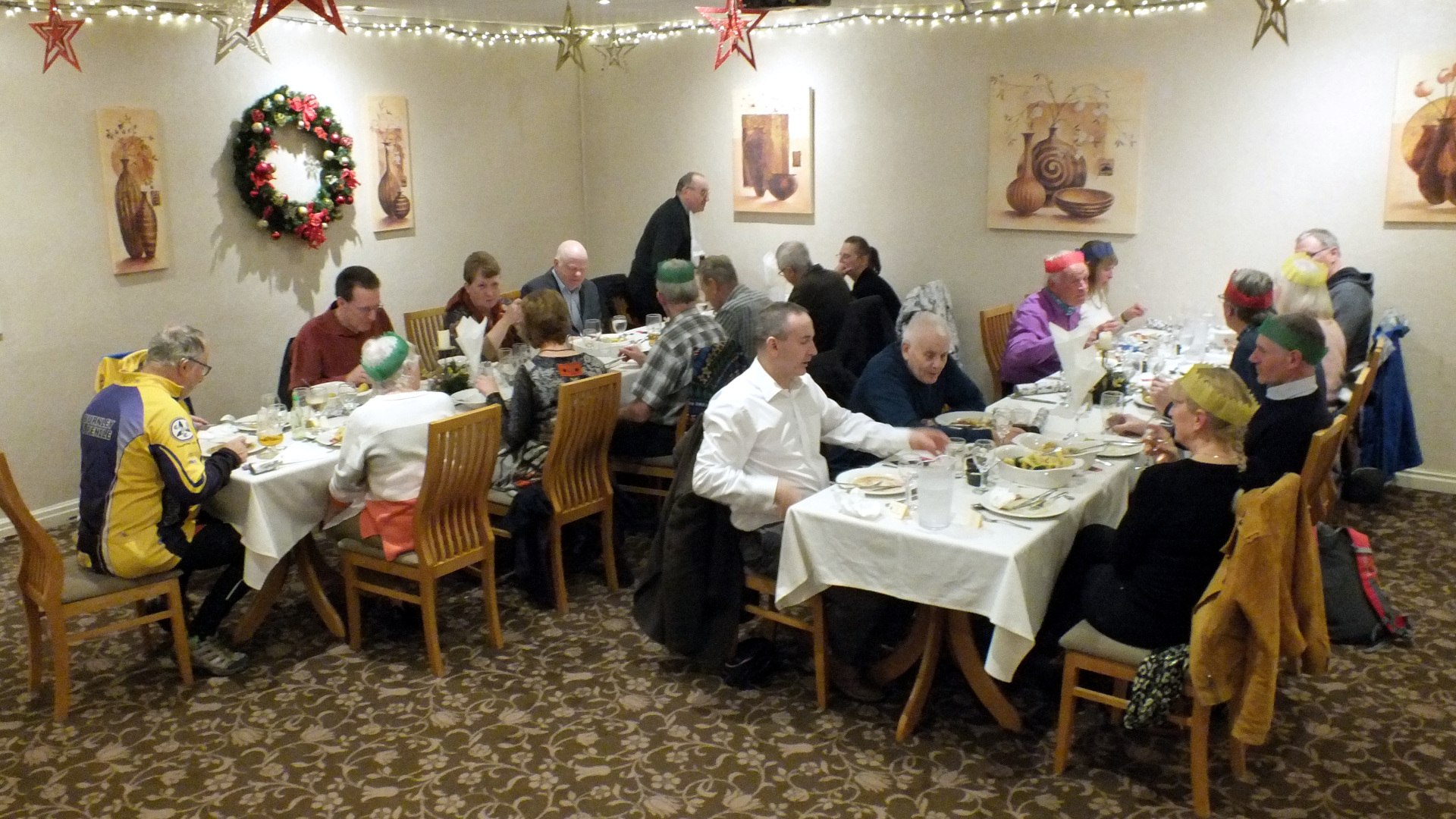 With Covid scuppering our annual Christmas Lunch last year, we were looking forwards to a good ride and meal today, and we weren't disappointed.
Seven riders turned up for the ride at 10am, starting from Rolls Royce Social Club in Barnoldswick, for a short ride out for coffee and toasted tea-cakes at Gardenmakers before returning via Bolton-by-Bowland for our Christmas Lunch at 3pm. We even got to meet Father Christmas along the way.
After the meal, we concluded the day with the presentation of the Jack Harrison, and Bill Heywood trophies, This year, the Bill Heywood trophy being awarded to Chris Marshall for his work over the years as our Rights and Planning officer, and the Jack Harrison Trophy, awarded to Jim Duerden for leading the points competition with a whopping 240 points!. Congratulations to both.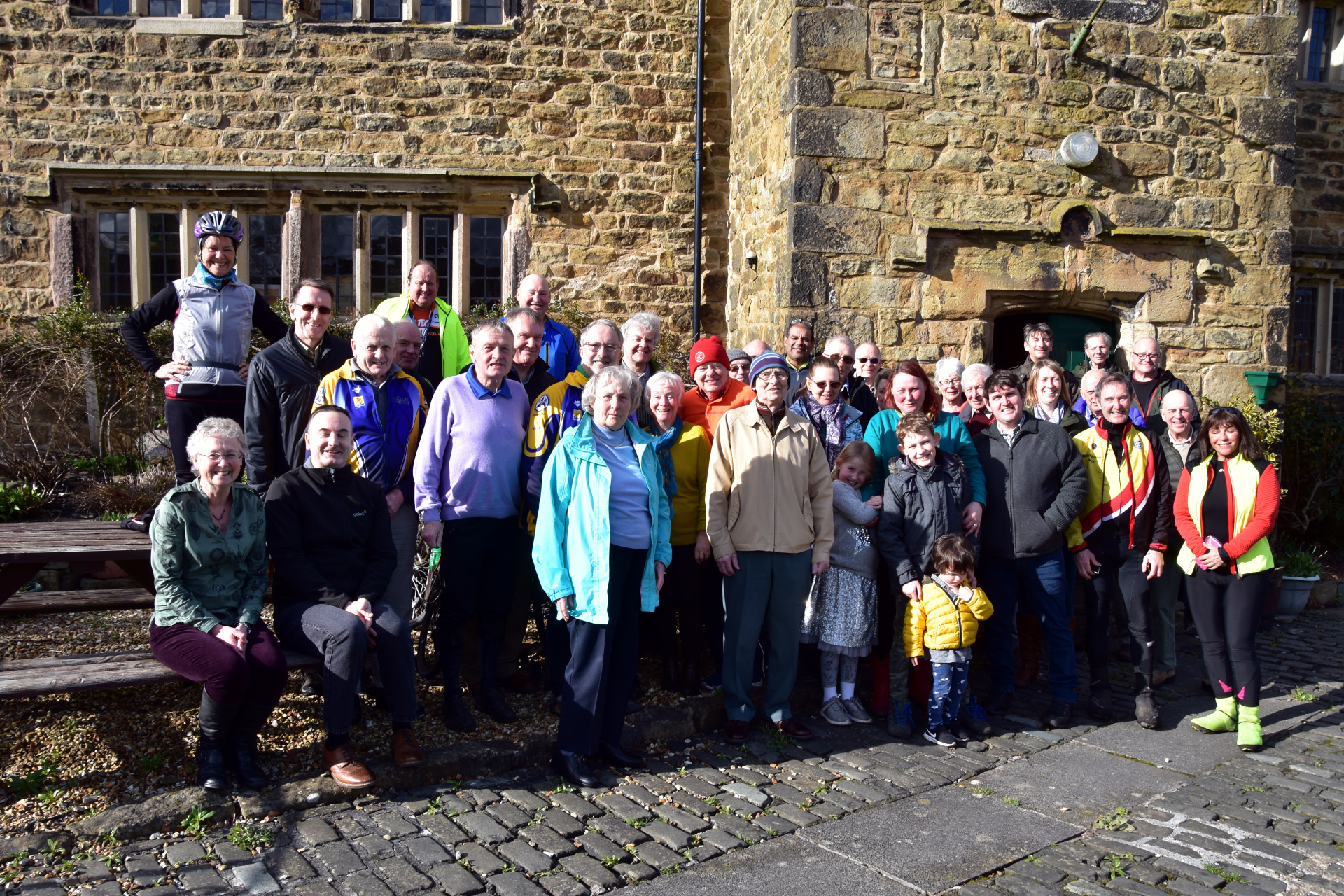 On Sunday 1st March 2020, riders from Burnley and Pendle CTC and Barnoldswick Clarion met at the Esse Cafe in Barnoldswick for a joint ride to Earby for a very special occasion.
One of our members, David Wilkinson, was celebrating his 90th Birthday, and his daughter, Margaret (who rides most weekends with the club) had arranged a special day for him, meeting family and friends from a lifetime of cycling.
Whilst planning the party, we also discovered that David had been a member of our club for 50 years, so in addition to celebrating his birthday, David was presented with a commemorative certificate by our club president, Jim Duerden.
The photos show some of the riders on their way to the party, David (in his younger years, on the left), and other shots form the day.
Here's what Margaret had to say about her dad's cycling life.
"Dad lived in Foulridge until 1947, he moved to Earby along with his widowed mother and siblings. After his fathers in death in 1943 his maternal uncle Jimmy encouraged him to take up cycling, he took him out and showed him the ropes. In 1947 after they moved to Earby Dad joined Barnoldswick Clarion Cycling Club, this being the nearest cycling club to his home. Where, he met Mum, who lived in Barnoldswick and had joined the Clarion in 1946. They started courting soon after. They enjoyed cycling together happily ever after.
Mum and Dad were both very fit and were hard riders regularly riding 80 – 100 miles each Sunday on the club runs. In those early days the roads were quiet as there was still petrol rationing so they could ride hard and fast on the main roads to the Lakes and Dales. The Clarion runs also took on tracks and footpaths, taking their bikes over high passes and moors. They were young and fit so this was no great problem they enjoyed the challenge and experience of being out in the wild areas. They have many stories of being lost on moors, caught in snowstorms, breakdowns and long, long days in the saddle, with great characters and friendships. The club also held cycle races and hill climbs both Mum and Dad competed in these, both winning club medals.
Not long after the war ended Dad wanted to upgrade his bike to improve his "speed" he needed new light weight wheels, but these were is short supply and the only ones he could find were in Newcastle, so he cycled there on a Saturday bought the wheels, put them onto a train to deliver them to Earby station. He stayed overnight in the Youth Hostel, then cycled home again on the Sunday. When he was conscripted into the Army for his National Service he would try to cycle home whenever he had any leave. Mum recalls that she would have plans for the weekend, then would receive a letter from Dad to say he was coming home and for her to meet him part way, she would then be met by a hot sweaty Dad having ridden hard all the way from Stoke on Trent, where he was stationed. When he was posted to Germany his brother joked "well that will stop you pedaling home". He eventually managed to buy a pre-war "Curlyback" Hetchins bike, and when they got engaged he also bought one for Mum, the family joke is that mum didn't get an engagement ring she got a Hetchins bike, Dad always the practical one.
I have memories of cycling holidays as a child my first holiday was when only 3 months old (I don't remember that one), I rode in a side car on Dads bike, when my brother and then sister arrived the single sidecar was joined by child seats, then 2 tandems with raised pedals at the rear and a child seat,. We even went to the Isle of Man with the tandems, catching the train from Earby to Fleetwood, with the tandems loaded with all the baggage a family of 5 would require for a weeks' holiday. Sadly when Anne my sister was too big for the child seat and I was not yet old enough to ride my own bike, the family cycling had to stop and we took up hiking as a family.
Dad still continued cycling when he could but Mum gave up it being too difficult to combine cycling with family life. Life was busy with a growing family and a business to run.
In 1970 Dad joined Burnley and Pendle CTC, and after a few years Mum took up cycling again riding her "engagement" Hetchins. They had so many happy club run outings and holidays. They also took their bikes on many holidays too, first in a Bedford camper van then a trailer tent then finally the comfort of a caravan. The Hetchins were replaced by modern bikes and they were retired to the garage rafters.
Sadly Mum had to give up cycling when she was in her late 70's, due to poor health, but Dad carried on until he was 85 in 2015. I restarted cycling and joined the CTC in 2006 and had some enjoyable rides out with them, Dad always had a great encyclopaedic knowledge of roads, routes and cycling stories, so was always a great companion on a ride.
Now Dad is 90 and Mum 87 their cycling is all about the memories. Their bikes are still in the garage, lovingly wrapped and oiled. The Hetchins are still there too, but sadly no longer rideable, Dad just didn't get around to finishing the rebuilds before age and declining health stopped him.
They both have lived a long and happy life's with lots of adventures and friendships, all through starting cycling in their early teens."
David would like to pass on a big "Thank-You" to every one who came to celebrate, and for all the people who sent cards, he was really touched by how many people came.