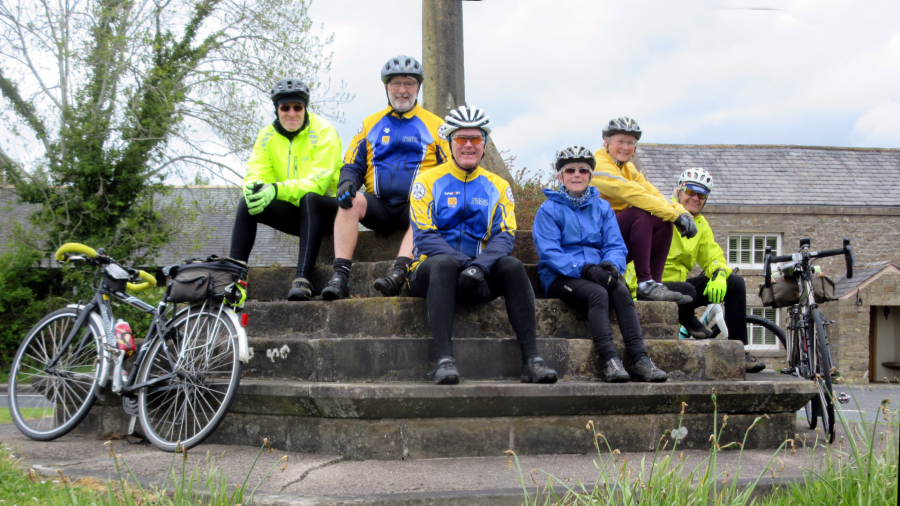 With the exception of one ride last September, this was our first official club ride since the start of the Covid-19 pandemic, in March 2020!. It's hard to believe, that, as a group, we've been effectively closed for over 12 months.
It was great to meet up again today with seven of us setting off from Whalley under a cloudy sky, even with the prospects of rain on the horizon.
Arriving at Chipping, around 11:00am, and the clouds thickening, we decided that our scheduled destination, to look at the bluebells at Calder Vale, was probably not that great an idea if we wanted to avoid a soaking, so decided on an early lunch and  loop back via Longridge.
It didn't rain though, so we divered to Inglewhite and a group photo to mark the occasion, by the monument there.
Heading back through Longridge, we even managed an outdoor brew stop at the Potters Barn in Ribchester before returning to Whalley for 3:30pm.
Overall, 37 miles covered, which is respectable for our short rides, and better than we expected at the outset.
We're now looking forward to more of the team returning next week on our next ride.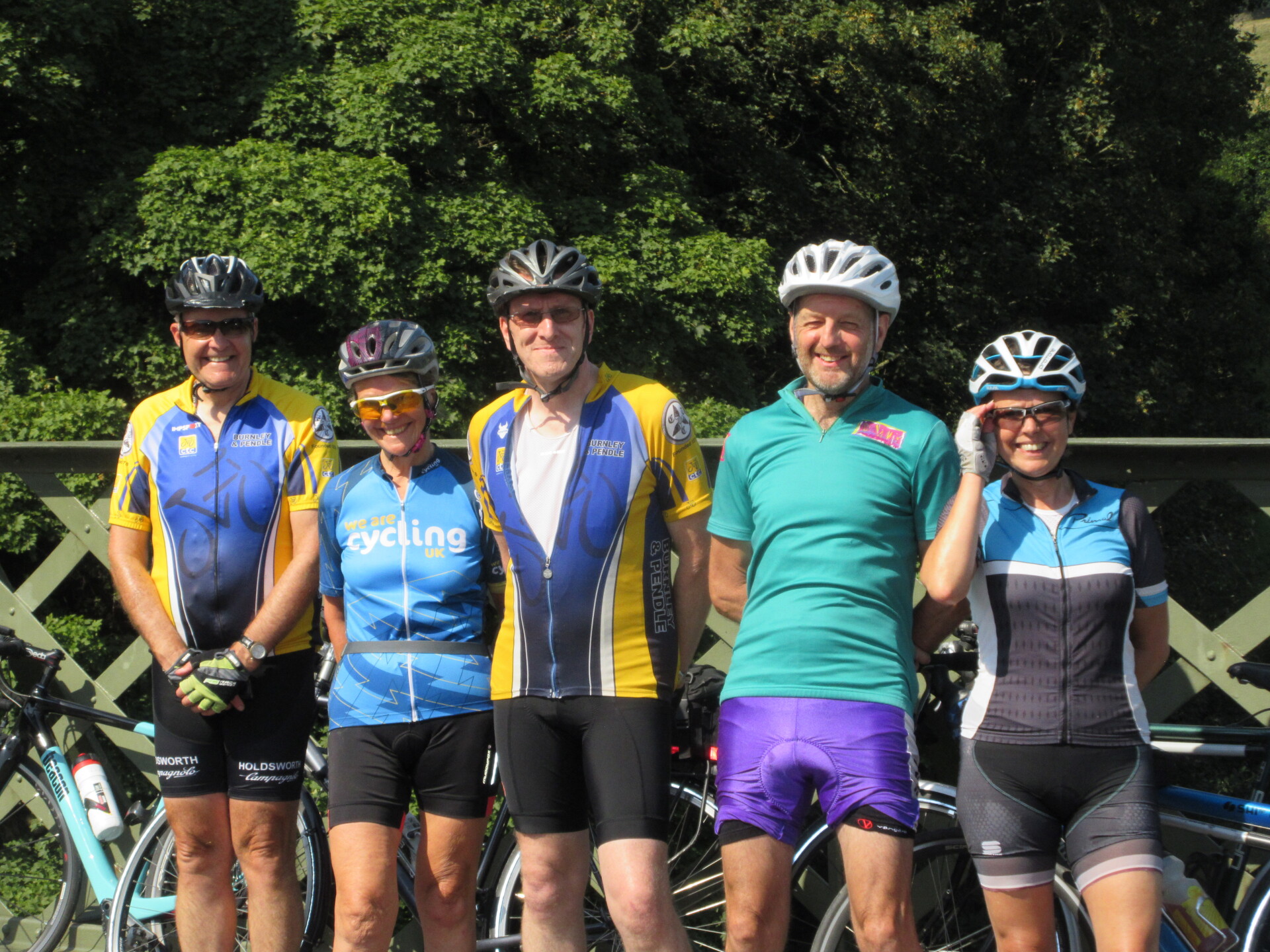 On what turned out to be the hottest August Bank Holiday weekend on record, six riders set off from Whalley Bus Station at 8:30am for our annual 100 Mile Challenge Ride.
This year we were upping the stakes a little, aiming to complete the ride in 8 hours (that's ride time, not elapsed time).  That meant we needed to sustain an average speed of 12.5 miles per hour.
Heading out towards Bashall Eaves and Waddington we navigated north towards Settle, and a quick brew (and cake) stop at Knights Table.  Carrying on over Stainforth Lane, we then turned west towards Austwick, Bentham and Wray before dropping down towards Lancaster and our lunch break at Bull Beck picnic area, near Caton, where we sheltered from the sun best we could.
After lunch we crossed the road onto the cycle path, which follows the Lune straight through Lancaster, coming out at the Millennium Bridge. Continuing along the river bank we could follow the track all the way to Glasson Dock where an Ice Cream stop was most welcome.
Our planned route back through Cockerham was interrupted briefly when the road we wanted to take was closed, but ride leader John did an excellent job finding an alternative, which would still achieve our desired target of 100 miles for the day. We detoured on to Pilling before heading south to Great Eccleston, and our final refreshment break, with 75 miles on the clock, by the Toll Bridge at Cartford.
It'a lovely spot with immaculate borders and lawns, the peace and tranquility broken only be the screaming engines in the Tractor Pulling competition at the nearby Great Eccleston show.
Forcing ourselves to get going again, the route back was fairly straight, through Inskip, Broughton, Longridge and Ribchester.
We finished with 100.9 miles on the clock and an average speed of 13.9 mph! Smashing our 8 hour target by around 45 minutes!
To say we were quite pleased with that is an understatement. It was an awesome day!.
Congratulations to all six riders who completed the challenge, and thank you to John for leading such an amazing ride.
Dorothy Altham
Jim Cooper
John Ramsden
Mark Clegg
Susan Whitehead
Trevor Stansfield