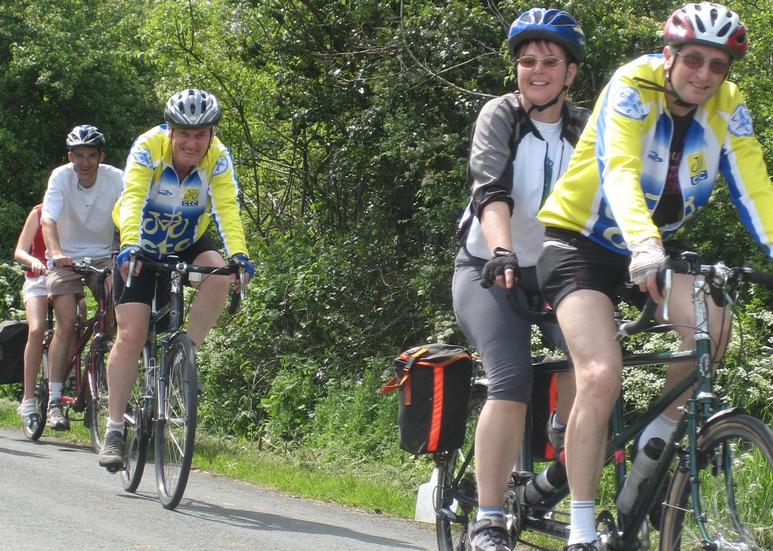 EVERY SUNDAY there is a choice of rides, one short ride and optionally either a medium or long ride.
All rides feature tea/meal stops at cafes. The short ride is typically up to 45 miles. The average speed is about 9 mph. The medium rides are around 50 miles at an average 11mph. The long rides are 60 miles plus at an average speed of around 12 mph. In winter all rides aim to return before it goes dark (however lights should still be carried). 
Throughout the year we also have an EXTRA SHORT RIDE FOR BEGINNERS of 15 to 20 miles once a month for people new to club cycling or returning to it.  Any kind of bike is OK as long as it's roadworthy - bring a waterproof and a spare innertube.
EVERY TUESDAY EVENING we also organise a short social ride of approximately 15-20 miles along quiet lanes, with the pace and distance being adjusted to suit any new riders. The rides start at 6:30pm opposite The White Bear Pub, Gisburn Road, Barrowford. We cycle for about one and a half hours and finish at The Cross Gaits Pub, Blacko for a well earned drink and a chat. All are welcome. These rides are a good opportunity for new riders to come along and try riding with us.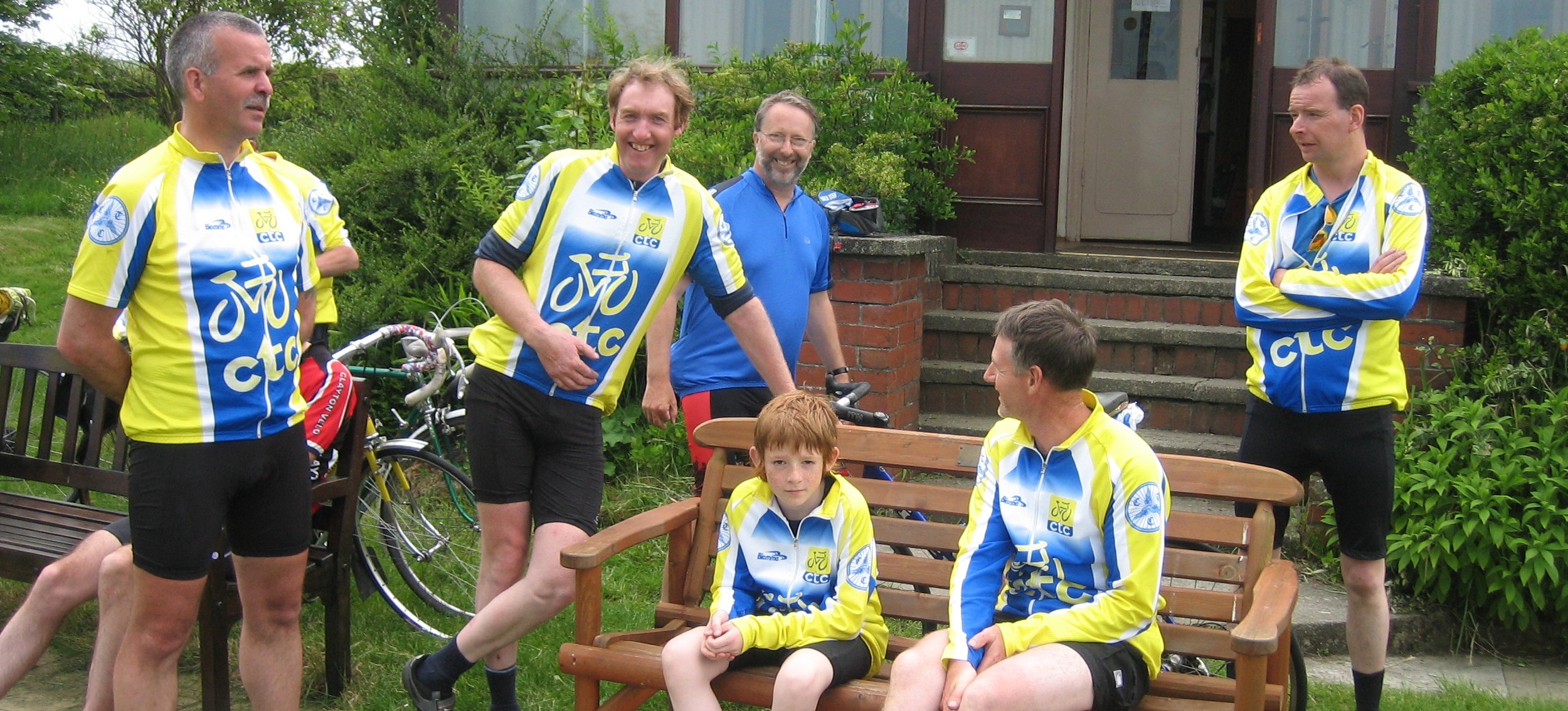 We would always welcome riders new to cycling on our rides and to offer any support and advice along the ride. We would recommend that you contact us first either via phone or e-mail so that we could sugguest the most appropriate rides and answer any questions you may have. Should anyone be feeling a little nervous about cycling on the roads or just feels that they want to build up their confidence before coming on a club ride, Pendle Borough Council are running a really good free scheme called 'Out & About' every Tuesday and Wednesday from Seedhaill Athletics Track, Nelson. The first sessions are based at Seedhill and offer a totally traffic free environment to build up your skills and confidence safely and steadily. You can even hire a bicycle and helmet from them for just £1.50 per session. For further information contact Clive Escreet on Tel: 01282 661315 or e-mail This email address is being protected from spambots. You need JavaScript enabled to view it. .
See our current rides list here 
The meeting places are:
| Meeting Point | OS Explorer 1:25000 Grid Reference |
| --- | --- |
| LANGROYD (Colne). Outside gates of Langroyd Hall | SD 89056 41004 |
| HIGHERFORD. Bus turning circle. | SD 86388 40275 |
| LANESHAWBRIDGE. Bus stop opposite Emmott Arms | SD 92265 40730 |
| READ. Junction of George Lane & A671 | SD 76483 34482 |
| SPRINGWOOD. Picnic area carpark, next to Whalley golf club | SD 76483 34482 |
| BARNOLDSWICK. Co-op car park | OL21 : 877468 |
| BARNOLDSWICK, ESSE (Opposite Silentnight) | SD 88422 46918 |
| HAGGATE. Cross roads | SD 87194 35267 |
| HOLME CHAPEL. Bus stop near Ram Inn. | OL21 : 875286 |
| BARROWFORD. (Tuesday evening runs) Opposite the White Bear Pub, Gisburn Road | OL21 : 858394 |
| BARROWFORD HERITAGE CENTRE. Meet in the carpark on the opposite side of the road | OL21 : 853398 |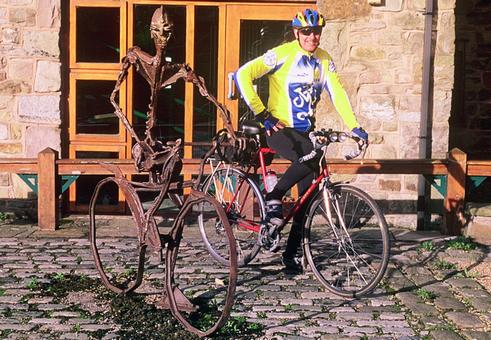 Some of our destinations might seem a bit obscure(!) but the lunch stop gives you a general idea of where the ride is going. Some of the rides might include a short section of "track" (off road), which are generally walked unless easily cycleable. There is usually a tarmac alternative for those who don't like tracks! Some rides are car assisted to enable us to visit new areas. 
To find out more about our ride destinations, see our 'Rides List' on this website, which can be downloaded and printed off. The information is also published each week in the 'Over the Hills' and 'Hill and Dale' sections of the local weekly papers, giving details of that weekends' rides.
For all rides , a basic tool kit and spare inner tubes should be carried.
CHALLENGE RIDES, SPORTIVES & AUDAX EVENTS.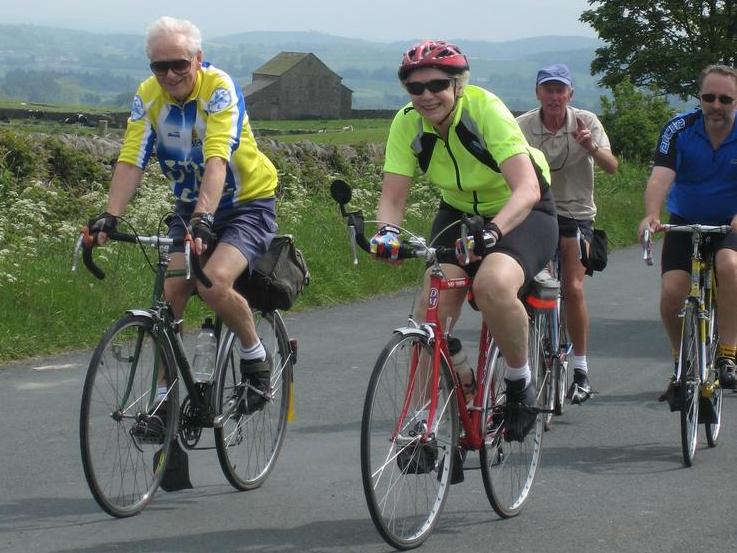 Anyone interested in these type of rides, should visit the National CTC site www.ctc.org.uk and follow the links to Activities & Events, CTC Competitions, and then CTC Tourist Competition. Here there are listings of events being put on by local CTC member groups throughout the country.