Sunday last found the members of the North Lancashire District Association of the Cyclists' Touring Clab gathered in Ellis' tea rooms at Gisburn for the purpese holding their annual general meeting and much more important, of course—their annual dinner and concert.
I will not bore the long-suffering readers of this column with a lengthy account of the meeting, but will briefly mention the officials elected for the coming year. President : The Bishop of Burnley; Vice-Presidents : Messrs. J. Atkinson, T. Hargreaves, W. TLord, and J. Smith ; hon. secretary : Mr. G. A. Hudson (7, Pine Street, Nelson) ; hon. treasurer : Mr. W. Lord ; hon. auditor Mr. H. Leaver; hon. Press secretary : Mr W. R. Mitchell. The committee comprises four delegates from each section, viz. : Mrs Hudson, Messrs. H. Blezard, H. Bowdin, and J. Nuttall (Nelson section), and Messrs: W. Waddington, R. Livesey, W. Briggs and H. Holding (Blackburn section). The meeting closed at 4-30.
The annual dinner began at 5-15, and over 70 members sat down to an excellent repast under the chairmanship of Mr. J. Atkinsons The District Association dinner, as supplied by Miss Ellis, is always eagerly anticipated by our appreciative members. To hear them talk about the dinner, any listener would be led to suppose that our members fasted for several weeks in preparation for the event. After looking at their plump faces the listener would doubtlessly refuse to believe these exaggerated declarations but had he been at Gisburn on Sunday and seen, how easily our members disposed of four-course dinner he could have been pardonably excused for believing that there was some truth in their statements, But it has aaways been one of the advantages of cycling that it creates a healthy appetite particularly in winter. To all who suffer from any inability to dispose of food. I have no hesitation whatever in recommending thebicycle as a cure for their complaint.
The dinner eventually came to a satisfactory conclusion and the tables wene cleared away. Then came the concert. Our chairman, who is a personal friend of Mr. "Willie" Taylor, had been fortunate enough to secure for our entertainment the services of four members of the Savoy Opera Singer, namely : Miss F. Greenwood (contralto); Mr. T. Hartley (tenor); Mr. W. A. Taylor (baritone), and Mr. H. Skirrow (pianist), who, together with Miss Illingworth (violinist) of Colne, rendered an excellent programme. Their programme was verv varied and comprised of vocal solos, duets and trios (operatic, sentimental and humorous), violin solos and humorous sketches. Several of the items brought the house down; one of them, "The Rivals." a humorous duet by Messrs. Taylor and Hartley, had an unrehearsed culmination added to it. The singers, with ecstatic gestures, were pleading with a maiden seated near the door 'to be their's,' when the door slowly opened and the head of one of our members emerged from behind the door-jamb and popped into the room. This unexpected denouement, together with the bewildered expression that appeared on the face of the member at apparently being almost frantically implored by two gentlemen "to be their's." caused a general collapse amongst the audience. Another item "The Leader of the Town Brass Band" by Miss Greenwood with the help of Messrs. Taylor and Hartley (who were the band in question) raised such vociferous applause that the band (sic) was compelled to give a special item, "Sonny Boy," which brought mock tears to the eyes of the performers and real tears (of laughter) to the eyes of the audience. Our campers, who have a so-called band composed of an unconventional mixture of musical instruments, were loud in their praise of this item, and they have, I believe, decided to make Messrs. Taylor and Hartley honorary members of their band. The humorous sketches were very well acted and kept the audience rocking with merriment, and the songs and violin solos which were admirably accompanied by Mr. Skirrow, received loud applause. The concert came to an end all too soon, at 8-30, Mr. G. Hudson moving a vote of thanks to the artistes, to which Mr. Taylor suitablyresponded.
The journey home over Coldweather hill was a damp and misty one, but no grumbling was heard about the weather; we were too busy laughing about the concert to trouble about a trifle like the weather.
"SARKIKUS."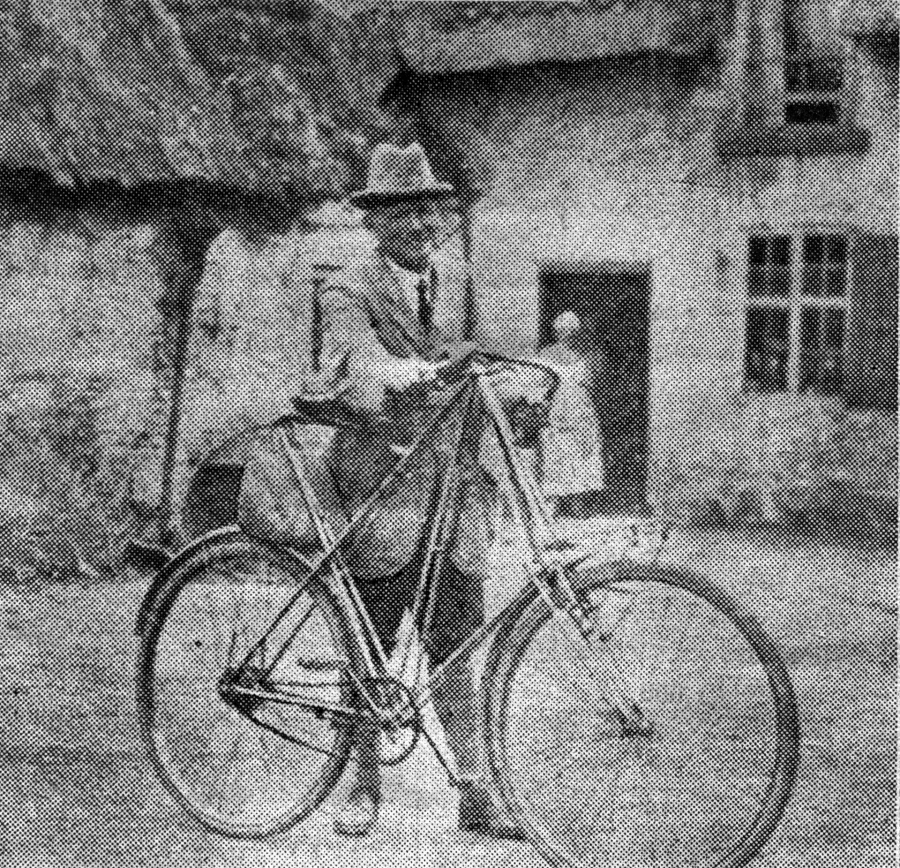 Death of Nelson's veteran cyclist - Mr Amos Sugden
Most familiar figures in Nelson, and a man of whom the town was distinctly proud, Mr. "Amos Sugden, died at his residence, 25 Newport Street, on Friday, at the age of 80. He was the idol of a cycling fraternity representing a wide ared, and by compléting the 67th year of his career awheel, he achieved a notable record. A gentleman of squirely bearing, Mr. Sugden carried his weight of years with a grace that could but be classified as youthful, and up to the middle of last year, when he met with an accident at Ambleside, he enjoyed robust health. The accident, however, had very unfortunate consequences, for although he recently spent a.few weeks in Dorset, he never fully regained his strength, and his end came gradually but surely.
The Funeral
The high esteem in which he was held by his fellow cyelists was manifest on Tuesday afternoon when his remains were laid to rest at Nelson Cemetery.
The cortege was met by members of the C.T.C. and N.C.U., among the latter being Mr. Tom Hughes, a Wigan collier, who had cycled to Nelson direct from his work in the pit, and who had to hurry back for the night shift. The Bishop of Burnley (Dr. Henn) himself a keen cyclist and president of the local branch of the Cyclists' Touring Club, also attended the ceremony, which was performed by the Rev. G: W. Bromiley.
The chief mourners were :— Mr. and Mrs. Wm. Sugden, Mr. J. Sugdeh, Mr. A. Sugden, Mr. and Mrs. Yates: first coach; Mr. John Sugden, Miss Annie and Ethel Sugden, Mr. Hartley and Mrs. Heywood, Mr. E. Whitehead: second coach; the Misses Broughton, Mr. and Mrs. Fred Sugden, Mr. Darius Windle and Mr. Birtwell: third coach; Mr. Mike and Mr. Albert Shackleton, Mr. Greenwood and Mr. Laurie Palmer, Mr. John Jackson, Mr. Tom MecDougall, the Rev. Mr. Bromiley: fourth coach.
Floral tributes were received from: The Family, Sister and Brother-in-Law and Nephew and Nieces, Daughter Helena and Grandson and Granddaughter, C.T.C. (Nelson = Section), Nelson Wheelers C.C., Neighbours and Friends, Mr. T. Whitehead, Mr. and Mrs. J. Greenwood and Bob, Emmie, Mrs. Pope and Family; Neighbouring Children.
The funeral arrangements were carried out by Messrs. Y. Helliwell and Sons, Ltd.
---
A Pioneer of the Cycling Movement
Mr. Sugden was one of the foundation members of the Nelson Section of the C.T.C. which he served as chairman from the time of its inception in 1920 until 1928, when he was made honorary vice-president.
It goes without, saying that a career of sixty-seven years awheel would be rich in incident. Mr. Sugden's Tretentive memory, supplemented by keen powers of observation, had stored up an abundant harvest of choice material.
He was no mere "mile-eater," and had no use for companions whose chief object was passing so many mile-stones in a given time. He saw and heard all the way along, and was not averse to dismounting for the purpose of watching the ways of the merest insect.
Mr. Sugden was also something of a psychologist, and considered that of all things people were the most interesting, and incidentally the queerest. He had met all manner of people in the space of his travels, and his position to judge was beyond question. An anecdotal fund is another factor which made his company desirable to people of all ages, and his bump of humour continued to develop with his years.
Cycled to Wembley
Mr. Sugden had cycled to London more times than can be counted on both hands. He celebrated his 75th birthday by cycling to Wembley, and even at that age did not elect to take the course direct. He decided to spend a week-end in the Lake District, and his starting point for Wembley was Ambleside.
In his younger days he cycled from Barnoldswick to London on one of those antedelavian steeds known as the "penny-farthing." The whole of his worldly wealth was 1n his pocket — six-pence! He had, however, a good supply of sad cakes, and as Mr. Sugden himself put it; water was in plenty.
Land's End to John-O-Groats
This wonderful veteran had cycled from Land's End to John o' Groat's, this journey being made during a period of industrial depression in the early part of the present century, and: the following year he cycled from Nelson to Bristol without putting up for sleep on the way. Three years ago he cycled to the French and Belgian battlefields, visiting the grave of the son he lost in the war. Not only was Mr. Sugden a cyclist himself, but three of his succeeding generations are also devotees of the pedal, thus creating the unusual fact of three generations awheel.
---
An Appreciation of Amos Sugden
We have just laid to rest Amos Sugden; for once the wheels have gone round and he has had no will for the journey or its end.
Amos was a great traveller. For him to travel was better than to arrive. Every minute spent in the out-of-doors was enjoyed, and he took the weather offered at the moment, and made the best of it.
Whenever he wandered - and the British Isles held few places he had mnot visited - frequent stops had to be made so that the fresh beauties discovered in old and familiar scenes might be absorbed and incense offered to them from one of Amos's strange and wonderful pipes.
These delays galled some of his more youthful companions. To him they were among the chief delights of his travel, for his progress was of the unhasting type which gets there in the end. Frequently, during the winter, he visited Manchester to hear the Brand Lane concerts, and enjoyed the varied fare offered. Grand opera, oratorios, any combination of musical instruments or organ music alike offered to him equal opportunity to be glad and rejoice.
In literature he had sure friends — Walter Scott, George Borrow, Carlyle, Charles Dickens, and Shakespeare were all known and read. A recent holiday in Dorest had sent him afresh to the works of Hardy, and he had been at pains to unveil the thin disguise of the place names by much use of his map.
Exhibitions afforded him uceasing pleasure. Everything from the smallest mechanical invention to the interior of a modern air-liner would be inspected, for he took a boy's delight in seeing how it worked.
No appreciation, however short, would be complete 1f it failed to mention Lakeland, for it held prior claim in his affections to any place in the British Isles, He had conquered most of its hills and passes, but the dearest place it held was a lowly eminence with an unsurpassable view — Orrest Head at Windermere. There, morning and night, he would climb, and take in the picture: limned by the Divine Artist. There at evening we have sat with him, seeing Windermere lying before us a wrinkled sea of gold; then, as the sun sank slowly beyond Bow Fell, its last rays lighting the hills up into sudden glory, so that they seemed on fire; the light failed, and evening came on.
So, at evening Amos silently went from us: He was a great friend, kindly, gracious, understanding. His conversation would enhance any company and disgrace none. Troubles he had had, but they left him sweet. He drank deep from the wells of life, and its waters were not bitter.
For him, as for us...
"...We are such stuff
As dreams are made on; and our little life
Is rounded with a sleep."