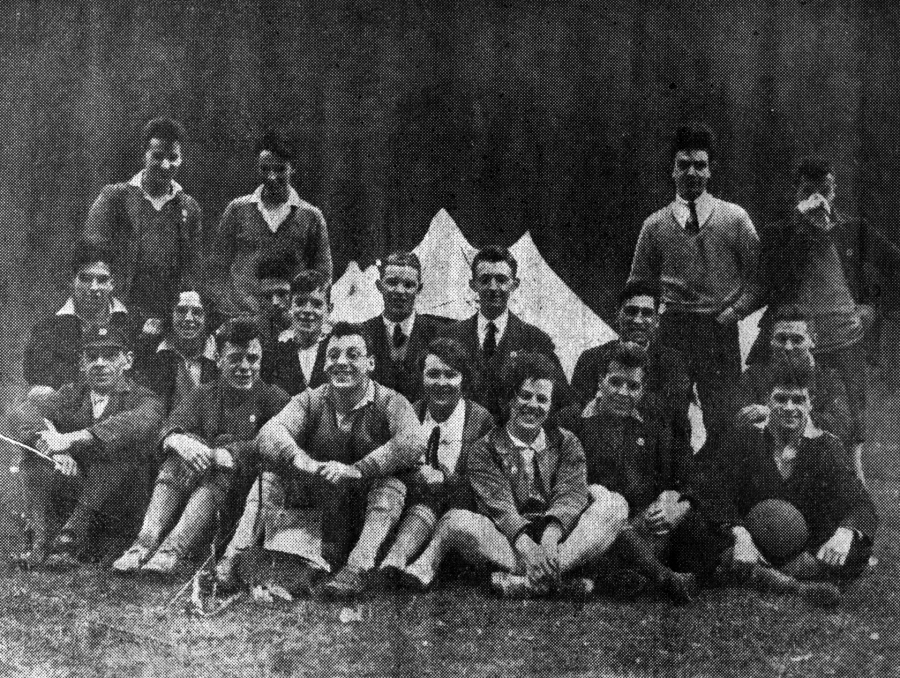 I am inspired to write of camping pictures because of the circumstance which led to one of them being trapped by the all-too-truthful camera, and subsequently flaunted before the world at the head of the pictorial columns in Last. Monday's issue of this journal. Cyclists will have noted, with more than usual interest, that jolly little study of the two clubgirl campers smiling up at a shadowy, sinister, shorted masculine figure, It was with great reluctance that I was caught in that study, it was with even greater misgivings that I unfolded my paper on the Monday to find that I had successfully avoided exposure. Still, I have the unpleasant feeling that my fellows in the game will not have scanned that camping picture long ere they say: "And that's Rota. You can, both figuratively and actually, spot those ears a mile away."
A Perfect Site,
Let me present another picture; this time to a perfect camp-site, Denham Wheel, on our loved Ribble, near to grey, picturesque Bolton-by-Bowland. There, a hill has decided to sweep down to the river, and has made a commendable error of judgment, undershot its mark, and, in glorious amends, flung out to the river a smooth, flat, green ledge. Scattered about this level plain betwixt the tree-covered hill and the tawny, rushing, crooning river, are tiny tents, low hung, and, mostly, graceful of outline. They appear, from a distance, dazzlingly white or coolly green or amber. There are thirty-three of them all told; Alaskans, Itisas, Cottages: "Jaybee's" "green veteran," whose roof has often sheltered, as it sheltered that week-end, new comers to the camping game. The Bedouins of the bicycle whose temporary abodes these are, are a mixed (and mixing) band from between Blackpool and Harrogate, bronzed men and boys, and the girls — well, horribly unfashionable with their sturdy limbs and full, ruddy cheeks.
The Dawn.
A picture of an awakening after an admittedly chilly night, I emerge to find the grass faintly powdered with white frost, and expectantly make for a water-bucket and promptly broadcast my findings to a world which is stirring faintly within its tent walls, and am greeted with a delighted "No." "There is ice in the buckets," I affirm, "Not much, but it is there. Hear it jingle." We are all rather proud of that almost invisible film, which "will probably have thickened considerably. My tent-cramped limbs do not function correctly, and outraged guy-lines twang their protest. Someone later accused me of arousing the camp by playing, "Weel may the keel row," on the anchoring cords.
A Morning Walk.
An ever-changing picture of a before dinner stroll. Two of us followed the singing river along a narrow and perilous path which swayed and twisted amongst the trees on the high, steep bank, a path whose clinging sliminess alone kept us from slithering down to an unnecessary wetting. Then our faint track forsook the river and led us through a jungle of rhododendron bushes, past where fallen giants of the woods mutely displayed their white scars, and turned back to the Ribble again to peter out at the foot of grim, upsoaring Pudsay's Leap. We were lost, and there was nothing else for it but to reach the heights above the river and regain our bearings.
So up that sheer bluff we went on hands, making our perilous way up over weathered, splintered rock, heavy, loamy soil, and a tangle of exposed tree roots. Our fingers often sank to the knuckles ere they found a hold in the soil; occasionally they took hold of a root which was loose, or a fallen branch, and moved hurriedly elsewhere. After quite a number of hectic split seconds, we gained the crest and looked down at that which had been a menace, but which now, as it curved its unhurried way through the tree-slashed vista below us as a broad ribbon of sinuous, shimmering silver, was a thing of breath-taking beauty.
Here was say a delightful little past oral comedy, or, maybe, a tragedy. There came across the fields beyond a full-woolled rotund ewe and lamb. Not her lamb, mark you, but a changeling, an unwitting impostor. Its mother was either gone or lost, so the shepherd had skinned the dead lamb and had draped the living with its coat so that the bereft ewe might never know of her loss and suckle the motherless stranger. (I know of these things because, townie though I am, my forefathers ranged the Lakeland hills with crook and collie for generations.) But the ruse had, alas, failed: The lamb, with its false and gory disguise trailing dismally at its heels was bawling hungrily and plaintively many yards in arrears of a disillusioned and plainly peeved ewe. Occasionally the sheep would halt, then, as the quietened and hopeful little one came nozzling up, would bowl it roughly over and haste away again. I explained things to my companion, and he was slightly interested; I was, in turns, amused and sympathetic, and, most of all, longing anew for Easter and the hills of my spiritual home!
Round the Burning Logs.
A picture of a camp fire. For an hour we struggled with powerful lungs against the heavy handicap of sopping sticks, and I gave up the struggle. Later I was jubilantly and unceremoniously dragged from my blankets to the blaze. We gathered about the crackling, sizzling, smoking fire, and sang, It was a charming scene, and no meet punishment for our arrant April folly, a full reward for our perhaps unreasoning love of the alluring out-of-doors. Ruddy flames rose and fell, and splashed the squatting circle of cycle-campers with their radiance and warmth. Voices rang cheerfully even when they chanted their doleful ballads of blighted loves which are, for some unfathomable reason, ever part of the Britisher's merry-making. Our river lilted an accompaniment which no music-maker ever born could better. The tall trees played their swaying dance: betwixt singers and orchestra and kept time with both. A silver sickle of a moon splashed a fairy path on the dancing waters and smiled down on us between the guardian trees. There was glamour, colour, romance, that midnight at Denham on the Ribble.
- Rota.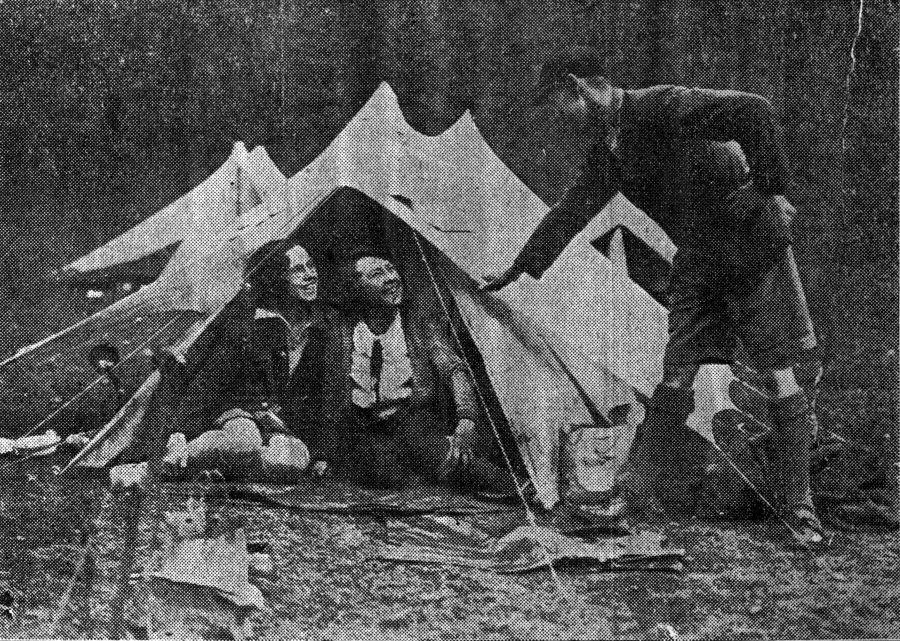 Ladies and Gentlemen, and also fellow cyclists, allow me to introduce to you just another phase of the C.T.C.'s many and varied activities, for it is worth your acquaintance, I can fully assure you, having myself taken part last week-end in the club's nomadic activities at Denham Wheel, near Bolton-by-Bowland.
Here's camping :— People stared at me. Little children gaped at me and then ran away vociferating their wonderment. Dogs barked at me, and even my own clubmates had a few choice things to say as I staggered to the meeting place at Higherford. And well they might, for I had adorned my bicycle with all the requisites necessary for the comfort or otherwise of a would-be camper. From it poured an incessant clatter of pans and enamel ware, accompanied by an occasional squeak coming from my knees as I endeavoured to coax the monstrosity along. Nevertheless, I was determined to show those who were not camping that my half-hundred-weight of odds and ends did not impede my progress, and so, leaving the rendezvous behind, we proceeded over the Coldweather Hill to Gisburn, I all the while expounding the delights of an easy-running bicycle.
On leaving Gisburn, we took the Bolton-by-Bowland road, and, descending to the bridge, we caught sight of the River Ribble, which was to be our chosen companion for many a happy hour to come. Of all the Ribble's bridges, this is to my mind the most exquisitely. placed of them all. None excel it, for its beauty both upstream and down consists of luxuriantly wooded banks sloping steeply down to the trout-haunted pools of the river.
Continuing forward nearly to Bolton-by-Bowland, we left the road and followed cart track to Foodin, where permission to camp was obtained, and eggs and milk were purchased for future consumption. Here it was that I divested my bicycle of its ornaments, and with bags literally getting me down, I staggered the vest of the journey down to where the Ribble flows in sylvan beauty. The camp site was a perfect Elysium. Bounded on all sides by steep wooded knolls, we did not catch a glimpse of it until we were practically upon it. And a pretty picture it presented, for already a few tents had sprung up on the flat meadow bordering the river, and without more ado I added mine to the growing encampments.
With the "happy home" once more above my head, I soon had the "Primus" roaring and tea made. To look at a "Primus" it appears quite innocent of spite, but no one knows its temperament . until one has meddled with it. At the slightest provocation it will spit paraffin at you or pour forth voluminous clouds of smoke or shoot hungry flames dangerously around your tent pole, or even contaminate your food and drink with a disagreeable taste and odour but when in the best of moods its content purr is music to the camper's ear. As the noon-day whistle is to the labourer, so roar of the "Primus" is to the camper.
With tea time over, "Jimnut" thought he would give the camp a true Gypsy atmosphere by lighting a fire. Now of all the creatures upon this earth none could have given the loving care he gave to that fire. He coaxed each twig to light by drying over a candle; he gave it paraffin to cherish it over its infant stages; he obtained assistance in the shape of "Son of Hud" and between them they lavished still more care upon that child of Lucifer; and truly patience was justly rewarded, for out of a spark a furnace grew, and as the darkness came over the world we gathered round it, finding a sense of companionship in its cheerful blaze. Many were the songs that were sung around that fire; songs of love, life and laughter, songs flavoured with the very essence of the country. First one and then another would start a song and all would join in as the popular refrain became known. Then someone else would narrate a joke, and all the while the moon's silvery light glittered in the eddies and wavelets of the adjacent Ribble, and the flickering shadows of the firelight played in weird confusion over the faces of the assembly.
It was midnight when we left that fire, and returning to the tents, supper was prepared, and I at least retired. As I laid there endeavouring to go to sleep, something like this greeted my ears, coming from the various tents around me :—
"Is it difficult to make?"
"Yes, the down is apt to scatter about."
"How many yards did it require?"
"About eight." (Evidently it was a serious discussion on sleeping bags).
Crash!
"What's that?"
"You've sat on the milk!"
"Drat that stove, it's for ever going out
Go and borrow some paraffin."
"Is that coffee ready?"
"Move up there a bit."
"Have you any paraffin, please?"
"No, so and so has borrowed it."
At intervals some youth gave vent to his feelings, his voice rising and falling in a weird and wild fantasia. Eventually sleepiness descended upon the camp and gradually the din died away, leaving only the babbling of the river, the sighing of the wind in the trees and an occasional hoot of the owl to disturb the quietude of that sequestered spot.
Morning came, as is usual, and with it a host of attendant glories. The grass around the camp was covered with hoar-frost, and from the trees and shrubs on every side poured the music of Nature's chorus. Thrushes. blackbirds. robins, wrens and many others joined in this chorus, whilst amongst the alleys formed by the tents hopped chaffinches blissfully ignorant of their nearness to human beings.
"Derailleur," my partner for the night, cooked breakfast. He is fond of such things, his motto being "When in doubt, eat." And I was quite willing to let him cook, as such domesticities are beyond me. After breakfast we wandered around the camp, finding thirty-three tents assembled there from all parts of Lancashire and Yorkshire. Thereafter the local beauty spots were visited, some of the campers making their way to Bolton-by-Bowland, and others to Denham Wheel and Pudsey's Leap.
During the afternoon the woods were again our chief playground, from which we returned eager for yet another meal — the last during our encampment. Then began the preparations for disbanding camp. One by one the tents fell to the ground as the last few pegs were drawn and then 'packed' into valises preparatory to strapping them to our beasts of burden. Meanwhile, amidst many a "Cheerio," those who came from distant parts departed. Thus the week-end, which, thanks to camping, was turned into a little holiday, was fast drawing to a close. With reluctance we turned our backs upon where the Ribble flows in wild seclusion, and as the storm clouds were brooding over the massive head of Pendle, we rode homewards, taking with us mental impressions of woodland and river scenes, of jolly companionship, of the moonlight glinting on the dancing ripples of the Ribble, of many a tale and song told and sung around the camp fire, to be recalled when work a~day's dull duties are upon us
- J.H.G