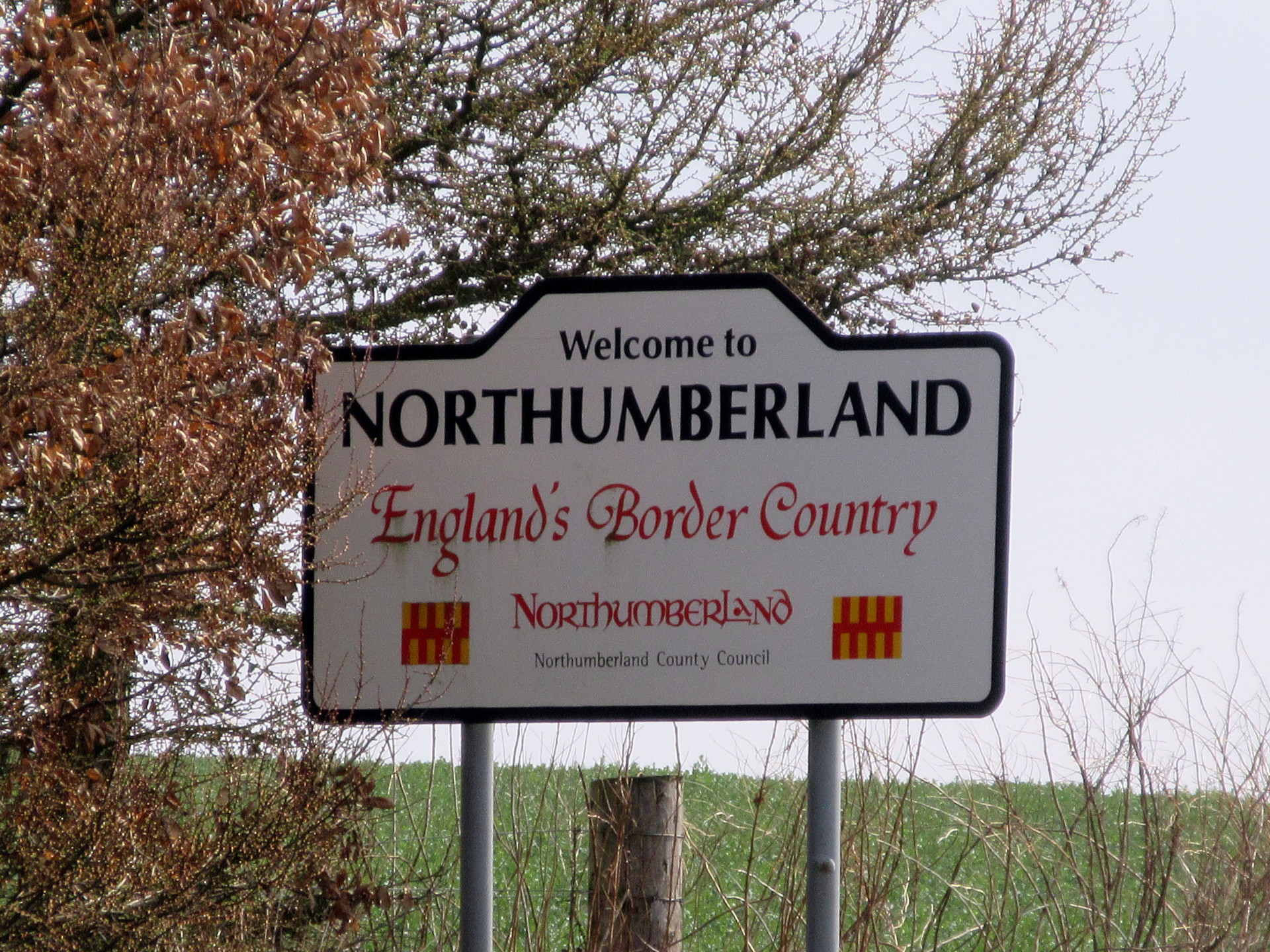 Berwick-upon-Tweed was the base for this years April weekend away, with 17 riders meeting for a few days cycling around Northumberland and the southern Scottish Borders.
Friday, most people were arriving, either staying at the Caravan Site in Spittal, or the Travelodge in Berwick. It was a little foggy, but a few did manage a short "weekend warmup" ride out to Chain Bridge Honey Farm, after which several of us met up in Berwick's famous Michelin starred restaurant, otherwise known as Morrison's cafe. (It was next door to the Travelodge, so very convenient).
On Saturday, we rode as a group, inland, until we hit the Scottish border, then following the border north until we were allowed in at Clappers. Continuing north through Ayton and Coldingham before dropping down to the picturesque harbour at St.Abbs.
After lunch we split into two groups, so that those wanting a few extra miles could stretch their legs a little. However, the road soon became a track, which became a trail, and eventually disappeared alogether, leaving us trecking through three fields, over fences, and even constructing a makeshift bridge over a stream! Luckily a helpful farrmer was on hand to help with directions. A good laugh was had by all (although we're still not sure he was laughing with us, or at us).
Both groups then returned by similar routes through Reston and Chirnside.
Saturday evening was spent at the Leaping Salmon in Berwick, where a surprise birthday cake was presented for one of our members who was celebrating whilst away with us.
Sunday's destination was Coldstream, nominally following the Tweed to Norham Castle, crossing the river via Union Chain Bridge, which, when it opened in 1820 was the longest wrought iron suspension bridge in the world.
After lunch, we again split into two groups, following similar routes back, but at different paces.
Sunday evening was spent in Limoncello's, an Italian restaurant, again in Berwick.
Leaving the best ride of the weekend until Monday, we had an early start riding down to Beal in order to cross the causeway to Lindisfarne. The causeway is fully metalled, but only crossable when the tide is out, so we had limited time on the island. Riding across was a novel experience, the road is at sea level, with only a wooden stilted refuge for those unfortunate enough not to check the tide times.
Again, after lunch two groups returned, etiher direct to Berwick, or via a longer route back to Norham Castle and over the Union Chain Bridge, retracing some of Sunday's ride.
Not wanting to walk the mile and a half back into Berwick a third time, we settled on Morrison's cafe for our final evening meal.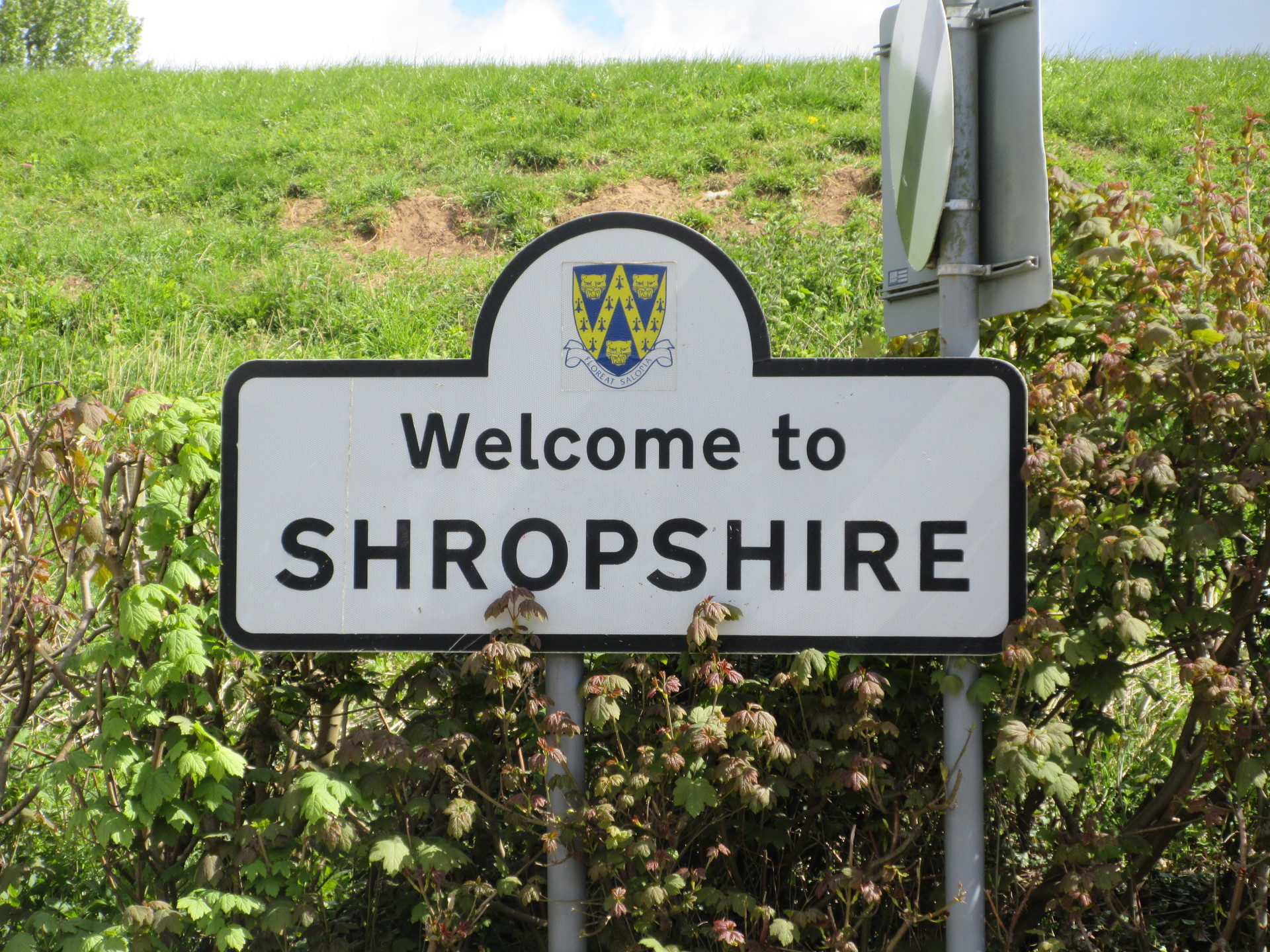 Ludlow was the destination for this years April long weekend. Fourteen members heading into Shropshire, arriving at various times on Thursday and Friday, 4 staying at a local caravan site, and the remaining 10 in the Ludlow Travelodge.
Friday - Just Exploring
With riders arriving at different times, we didn't have any rides planned until Saturday, but that didn't stop a few of us having a short explaratory trip out on Friday afternoon, where we soon discovered Shropshire's hills were long and often steep.
After our ride, we checked into the Travelodge, before meeting the others in the Squirrel for diiner.
We were allowed to keep our bikes in our rooms at the Travelodge, although we had to get them up the stairs first!

Saturday - The Long Mynd
On Saturday, ten of us had decided to tackle the Long Mynd, a heath and moorland plateau, designated as an area of outstanding natural beauty. The views were expected to be spectacular, and we weren't disappointed. We just had to get there first.
We met outside Ludlow Castle, and headed north through Stanton Lacy, Peaton and Diddlebury before lunching in Church Stretton.
It was a tough climb up the Long Mynd, but it was definately worth it. Clear blue skies meant we could see for miles. At one point we saw what we thought was an Ice Cream van at the top, which was just the incentive we needed. (except it wasn't and had left by the time we got there, so we had to make do with fruit pastiles).
Along the crest we watched several gliders flying out from the Long Mynd Gliding club, before the long fast descent down the other side. We needed almost constant breaking, so stopped near Plowden to allow our wheel rims to cool down, before returning to Ludlow, and our evening meal in the Squirrel, which had become our regular for the weekend. It was next to the Travelodge, so that was handy.
Longer than expected, we'd covered 46 miles.

Sunday - Tenbury Wells (Short ride)
Setting out from the Travelodge - Margaret, Harry, Jim & Jackie, Peter R. & Tina, John & Sonia on their tandem, and Peter H. trying out an electric bike.
Riding to Tenbury Wells for a coffee stop at the Riverside café, then Margaret, Jim & Jackie, and Harry rode to Barrington Hall in a roundabout way, the others taking a shorter route back.
We rode through lovely quiet "hilly" lanes, Harry leaving the group part way back to find one of his cycle quest clues whilst Margaret, Jim and Jackie had a picnic lunch in the grounds of the hall.
Finally cycling back to Ludlow via Luston and Overton. A short ride of around 25 miles.

Sunday - Bridgnorth (Long ride)
Mark, Jim, Dorothy and Sandra made for an early start on Sunday, with the intention of seeing the bridge at Ironbridge. Heading North East through Middleton and Neenton, we arrived in Bridgnorth at 12:00 to a suggestion of rain.
Stopping for lunch, we decided that Ironbridge was possibly a little too far, so decided on an alternate route back, through Ditton Priors and Culmington before retracing our return path via Stanton lacy from Saturday. 3pm saw it start raining, so we arrived back in Ludlow 50 miles up, and a little damp, but that was the only time it rained the whole weekend. (Apparently it had snowed at home!)

Monday - Clungunford (Short ride)
Margaret, Jim and Jackie, John & Sonia and Peter & Tina met on Ludford Bridge to ride to Craven Arms, via Mortimer Woods stopping for coffee at the 5 star Lion Inn in Leintwardine,.
The group was escorted upstairs to the breakfast room, I think a group of noisy cyclists was too much for the genteel surroundings!! then another picnic lunch on the community centre steps in Clungunford, there not being a café in the area.
Heading on to Craven Arms for an afternoon coffee and back to Ludlow on Cycle Route 44. Distance around 30 miles.
Again the lanes were lovely to cycle on, with lots of quirky cottages, farms and churches to stop to look at. There was very little traffic on the lanes so it made for very pleasant cycling.

Monday - Presteigne (Long ride)
The Bridgnorth Four made an eary start again, heading today in a westerly direction. We didn't really have a plan other than somewhere slightly less hilly.
Passing through Richards Castle, we came across the Gallery Cafe in Yarpole. Run by community volunteers, the cafe, shop, library and postoffice are all located in St Leonards Church. It's definately worth a visit if you're ever in the area.
Leaving the cafe, we carried on to Mortimers Cross, where, only 9 miles from Presteigne, we decided it would be good to venture over the border into Wales. After struggling with camera self timers at the "Croeso i Gymru" sign, a passing "cross country" runner kindly took our photos and we were allowed through passport control.
Pressing on into Presteigne for lunch, we then turned north crossing Offa's Dyke at Rhos-y-Meirch and on to Knighton before returning to Ludlow via Brampton Brian and Wigmore. Another 50 miler.

Tuesday - Yarpole
Time to go home, but a few of us found time for a short ride first.
We enjoyed our cafe stop in Yarpole so much we decided it was close enough for an early morning coffee, before lunch back in Ludlow and the end of out weekend.