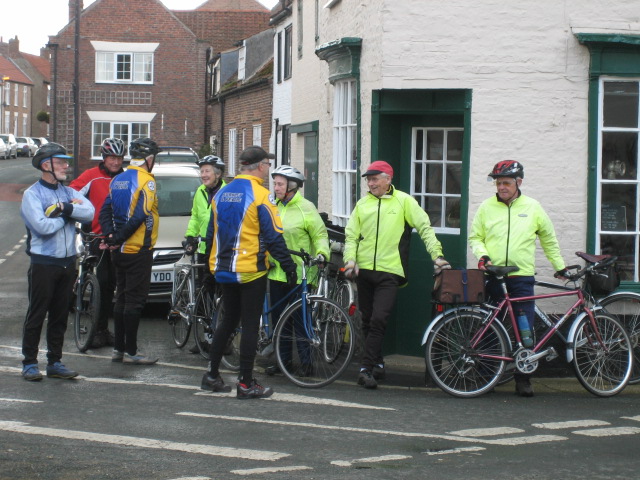 Our Club weekend from Friday 20th to Sunday 22nd April 2012, had originally been intended to be based in Beverley, East Yorkshire. Unfortunatley the Youth Hostel at Beverley was closed for refurbishment. We re-located the weekend a few miles to the northeast with 5 members staying in bed & breakfast accommodation in Leven, and 7 members caravaning nearby. A further 2 members stayed in Hull and joined us for the ride on Saturday.
Members made their own ways over to Leven on the Friday. My father and I arrived by car just after 2:00pm which gave us time for a sort cycle ride to reconnoitre the local area covering 27miles. The weather was quite bright and sunny, although there were a few dark clouds passing over as the day went on and we did have to shelter from one localised dowupour.
After a good breakfast on the Saturday morning we met up for the ride and headed north towards the Yorkshire Wolds via Brandesburton, North Frodingham, Foston on the Wolds, Great Kelk, Burton Agnes, and then onto Kilham where we hoped to find a lunch stop. We were directed south to Harpham where we had lunch in the village pub, while outside it suddenly went dark poured down with rain. After lunch we eventually ventured out into the rain, to head back, but after half an hour or so the rain did start to ease off.  With the weather improving we added a little detour via Bewholme and Seaton before returning to Brandesburton. Distance covered 46miles. In the evening we had bboked a meal at The New Inn, Leven, where some of us were staying, which was very enjoyable.
On the Sunday after another good breakfast, we checked out of the B&B and met up for the ride. This time we headed via Bewholme on very quite pleasant lanes out to Hornsea on the coast. We has a cup of tea on the seafront while sheltering from another localised shower. We then got on to the Trans Pennine Cycle Track heading southwest. The track had a really good surface to start with but this then changed to a poorer quality surface which was getting quite wet and muddy, due to the showers, so we came off and got back onto the lanes near Great Hatfield, and continued via Witherwick and Aldbrough to Sproatley for our pub lunch. Again we missed a heavy shower while we were in the pub. We then set off to head back north, passing Burton Constable Hall to New Ellerby and on back to our cars for the journey back to Lancashire.
Although the weather could have been better, I think this proved to be a very enjoyable weekend for all that attended, offering an opportunity for us to experience cycling in a part of the country with a totally different charater to our regular rides. By John Ramsden with Photo's also supplied by Jim Duerden.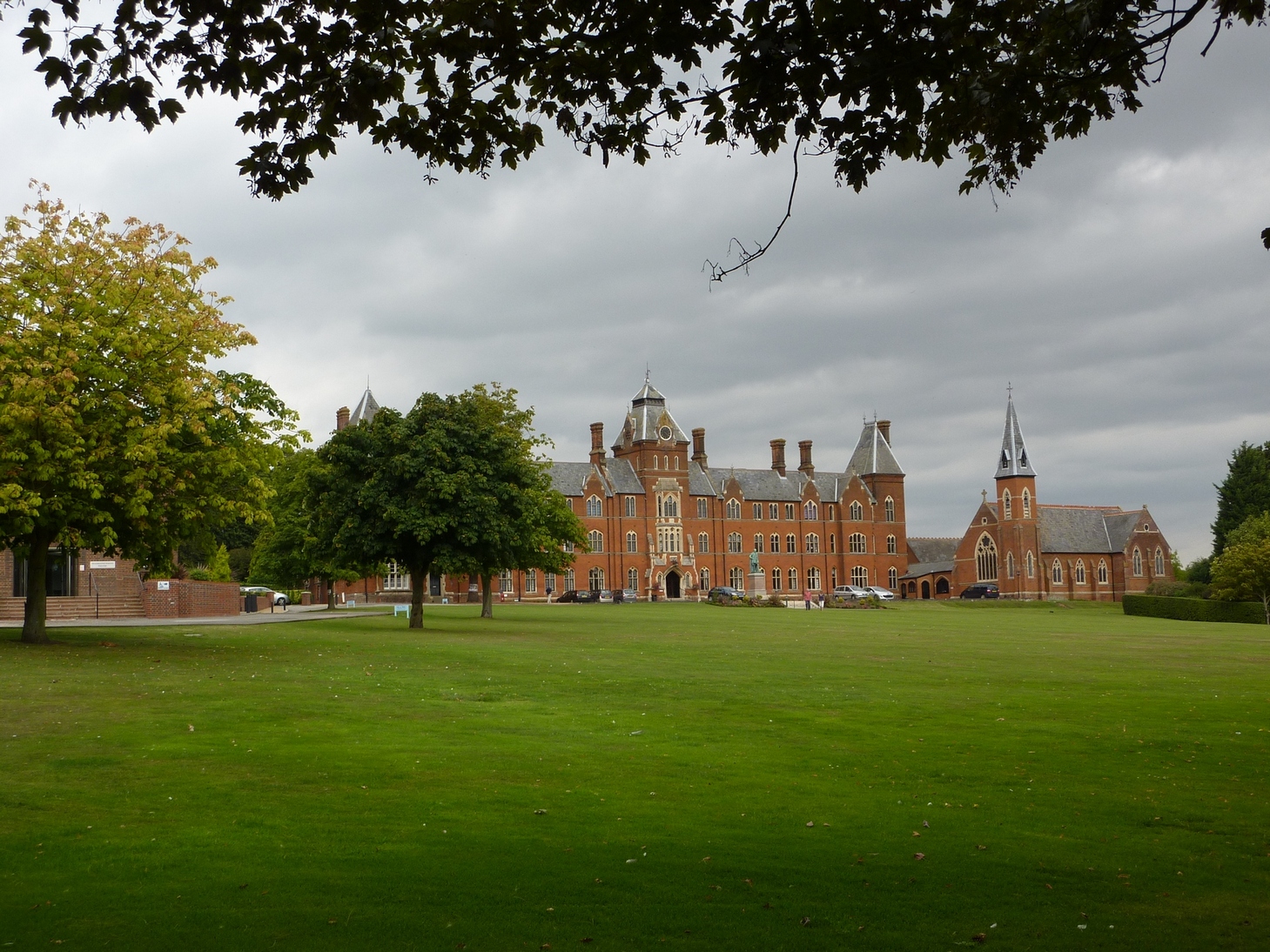 The 2011 annual CTC Birthday Rides, were held from 14 to 20 August at Framlingham College, Suffolk. The rides are held in a different region each year and are organised by CTC Holidays with the help of the local member volunteers. This year 640 members attended to celebrate the 133rd birthday of the national CTC.
The event was based at Framlingham College, wonderfully situated in its own grounds with views over the mere to Framlingham Castle. Members could stay in the student boarding accommodation with breakfast and evening meals provided, or opt for a self catering option with caravans and camping within the grounds. The Burnley and Pendle CTC member group were represented by 8 of our current members, and the wearing of our club tops generated numerous discussions with other cyclists and members of the public. We were also very pleased to meet up with a couple of our ex-members that have moved out of our area, in Ronnie Gill and Marion Whitwell.
Detailed ride cards were available for 22 different rides, with at least 5 rides to chose from each of the categories, which were 'A' (60-80mile), 'B' (40-60mile), 'C' (20-40mile), and 'D' (10-20mile). The cards were marked with points of interest and visitior attractions. Some of the rides were recommended for certain days, due to the opening days of visitor attractions etc with some attractions being specially opened for us, or guided tours and discounts on offer.
The countyside is relatively flat, with some wonderfully quiet little lanes, which suited Sonia and I on our tandem which we are just getting used to and was ideal for young families. There is plenty to see, of interest, with quaint villages many of which are thatched, and historic sites such as Sutton Hoo the site of a saxon ship burial. The coast is in easy reach, with seaside towns such as Southwold, and we also visited the RSPB reserve at Minsmere. We were extremely lucky with the weather, which always helps, and it was a good job I remembered to take my sun protection as I used it every day. The one bit of bad weather came about 4:00pm on the Thursday afternoon when there was an absolute downpour, lasting most of the night. This of course was the night that we had pre booked a trip to the open air forest theatre to see a performance of Twelveth Night.
With the bar situated in a large marque and the college theatre also available there was a variety of entertainments on offer, each evening, including talks, slide shows, a quiz, and an eccentric look at Suffolk by local comedien Charlie Haylock. CTC stalwarts Chris Juden and Mark Waters provided a maintenace workshop and slide shows on some of the tours they have led. The college swimming pool was also available daily, free of charge, but we didn't quite manage to fit a dip.
On the Friday, the last full day, there was a thanksgiving service in the church followed by a mass procession back to the college for the Birthday Tea on the front lawn, where CTC vice president Josie Dew was the special guest. Josie also put on a slide show of her travels later in the day, before the last night barn dance with 'Inertia Reel'.
Burnley and Pendle CTC got a mention in the Birthday Tea speaches as we collected our prize for the Treasure Hunt.
This was the first visit to the Birthday Rides for my father, neice, Sonia and I, with the experience far exceeded our expectations. We will definately be looking out for details of next years event which we understand will be based in Shropshire.
Everyone we spoke to were impressed by the organisation which had gone into the event and the warm welcome we received. We did our best to show our appreciation to Paul Fenton the president of the Suffolk CTC and the other volunteers from the local CTC member groups. By John Ramsden.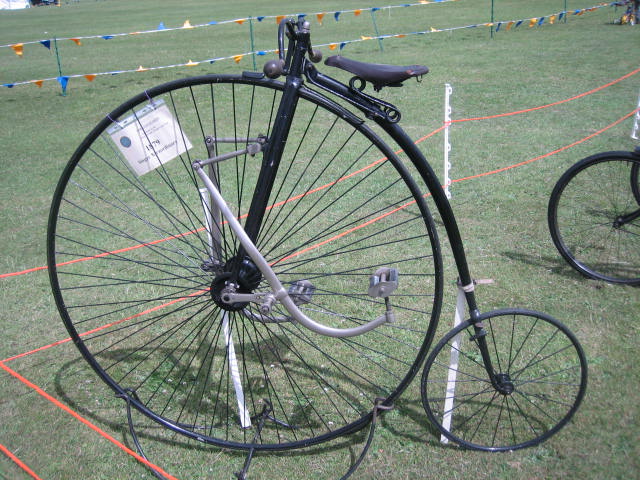 This years CTC York Rally Cycle Show was held over the weekend of Saturday 25 and Sunday 26 June 2011.
The cycle show is an annual event organised by the National CTC, and takes place at York Racecourse. There are a number of exhibitors and displays as well as trade tents, arena activities, bike auction, saddle bag sale, Sportive and guided rides.
A number of our members camped for the whole weekend, in tents or caravans, either on the site or close by. Other members drove over for one of the days.
On the Sunday our long ride met at Laneshaw bridge at 7:00am to ride over to York, calling at Otley and Wetherby to meet other members who had driven part way. On arrival at the event we made our way to Norma & Brian's tent where we were very kindly offered a brew and a cake. We then had about two and a half hours to look around the show before meeting up to set off riding back. 
I had set off from home at 6:20am to cycle to the meet point, and arrived back home at 8:20pm, having cycled 128 miles. The weather shown on the photo's taken on the Saturday are rather overcast, but on the Sunday the weather was much brighter and warmer. In fact the heat on the cycle back home was such that it actually made the ride much tougher.
The final photo's show some of the bygone bikes that were on display.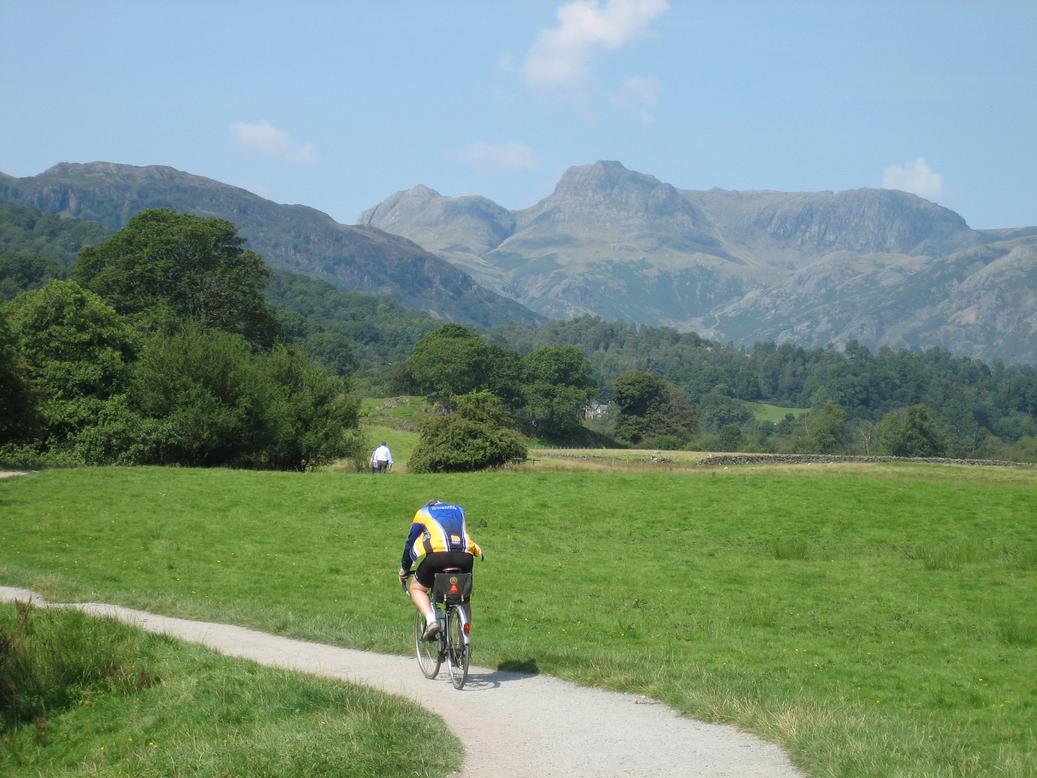 Friday 13 August to Sunday 15 August 2010.
The club organised a trip to the Lake District, based at Fiddler Hall, just outside Newby Bridge, with 8 members attending, staying either in their own caravans or in the bed & breakfast accommodation.
We were extremely lucky to have glorious weather for the whole weekend.
The early arrivals on the Friday, checked in and then set off on a ride via Seatle on nice quiet lanes round to Newby bridge and then onto the White Hart Pub at Bouth for a lunch stop. We continued on via Spark Bridge and up the quiet east side of Coniston Water. Maintaining our height past Atkinson Ground, we met the B5285 and continued onto Hawshead, were we sat outside to have an afternoon brew stop. Then west of Esthwaite Water and down the west side of Windermere to Newby Bridge and back to Fiddler Hall. Distance 31 miles at a leisurely average speed of 9.8 mph. Evening meal and a pint or two at the Newby Bridge Hotel.
After a hearty cooked breakfast on Saturday morning, we set off riding south to Cartmel. We had a look at the racecourse and then continued onto Grange-over-Sands. Turning north we headed through Lindale, and got onto a wonderful quiet country lane which took us past Low Tarn Green, Swallow Mire, Bridge Ho, Bowland Bridge, and Borderside before reaching Winster where we stopped for a pub lunch. Then on minor road up to B284, and then heading for the Bowness Ferry. My father then had a mechanical problem when his derailer snapped. Follwing a temporary repair, to allow him to use only one gear, we did a detour of about 5 miles to the Wheelbase cycle shop at Stavely where a new derailer was purchased and fitted. We then headed back via Ings and a minor gated lane to the Bowness Ferry. The crossing of Windermere only takes about 10 minutes and we then headed back down the west side of the lake to Newby Bridge and Fiddler Hall. Distance 44 miles at an average speed of 9.2 mph. All 8 of the party went out for an enjoyable evening meal at The Crown, bar restuarant in nearby High Newton.
On the Sunday we set off, after another hearty breakfast, up the west side of Windermere, through Hawkshead and turned left, just before Clappersgate, onto a minor road and then cycle path to Skelwith Bridge and onto Elterwater where we had lunch at the Britannia Pub. The weather was again glorious, as we sat outside for our lunch. We then continued along Great Langdale, through Chapel Stile, then up the steep climb at the end of the valley and past Blea Tarn, before dropping down into Little Langdale. Our ride then headed to Coniston for an afternoon tea stop then down the east side of Coniston Water and back to Fiddler Hall. Distance 48 miles at an average speed of 9.5 mph.
The people staying in caravans, had another nights stay booked, but after saying our goodbyes the rest of us now had the car drive back home. Everyone had really enjoyed the weekend and the talk was of where to go for the next trip. By John Ramsden.