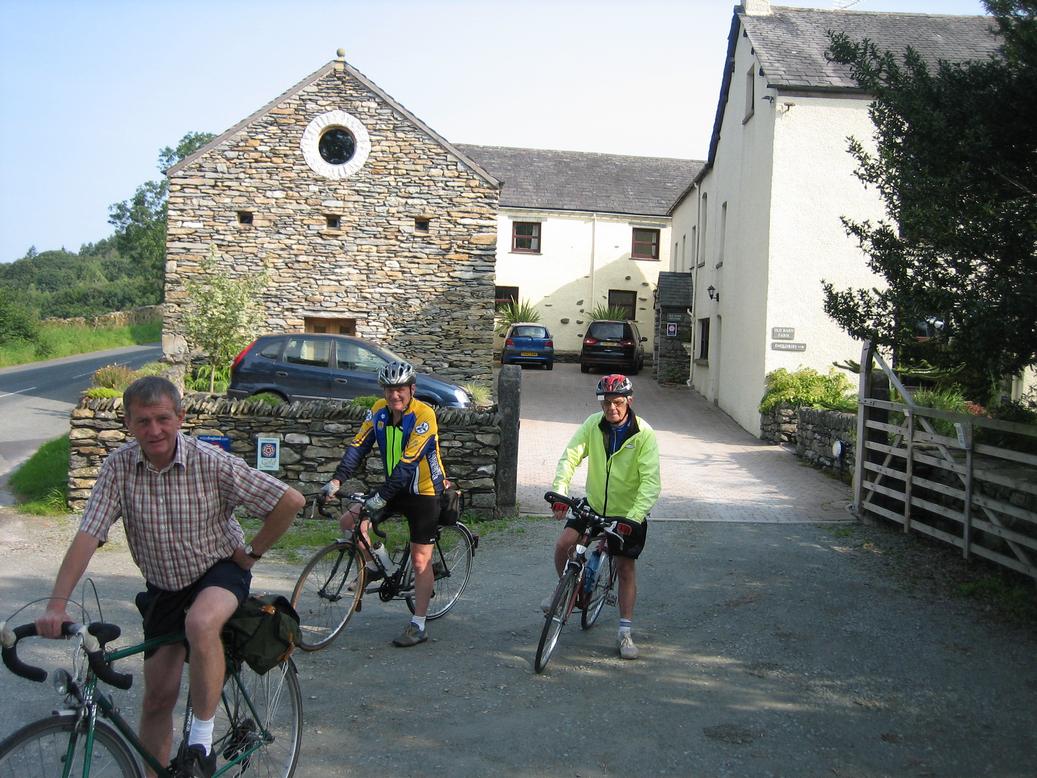 Friday 13 August to Sunday 15 August 2010.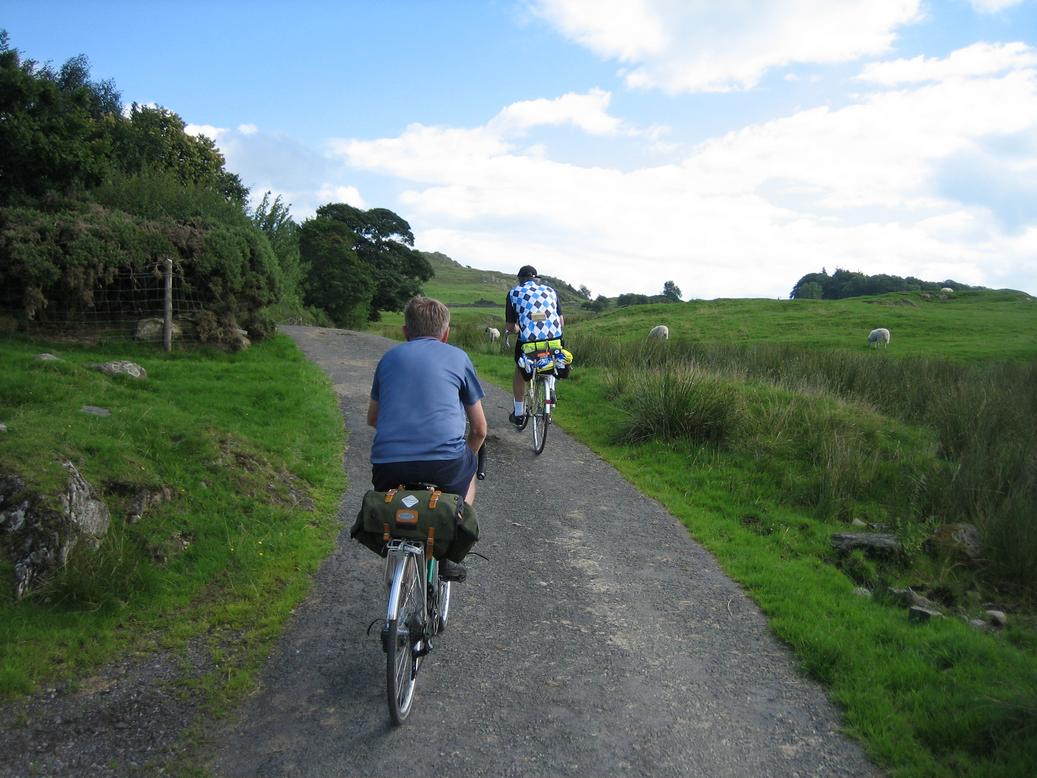 The club organised a trip to the Lake District, based at Fiddler Hall, just outside Newby Bridge, with 8 members attending, staying either in their own caravans or in the bed & breakfast accommodation.
We were extremely lucky to have glorious weather for the whole weekend.
The early arrivals on the Friday, checked in and then set off on a ride via Seatle on nice quiet lanes round to Newby bridge and then onto the White Hart Pub at Bouth for a lunch stop. We continued on via Spark Bridge and up the quiet east side of Coniston Water. Maintaining our height past Atkinson Ground, we met the B5285 and continued onto Hawshead, were we sat outside to have an afternoon brew stop. Then west of Esthwaite Water and down the west side of Windermere to Newby Bridge and back to Fiddler Hall. Distance 31 miles at a leisurely average speed of 9.8 mph. Evening meal and a pint or two at the Newby Bridge Hotel.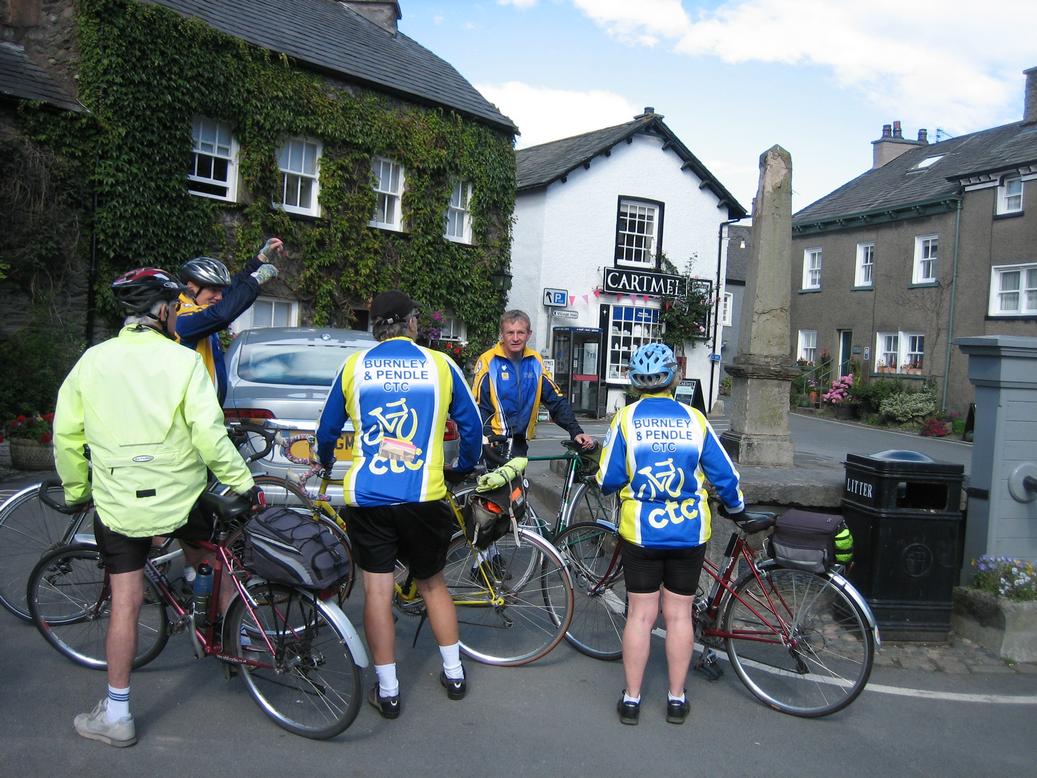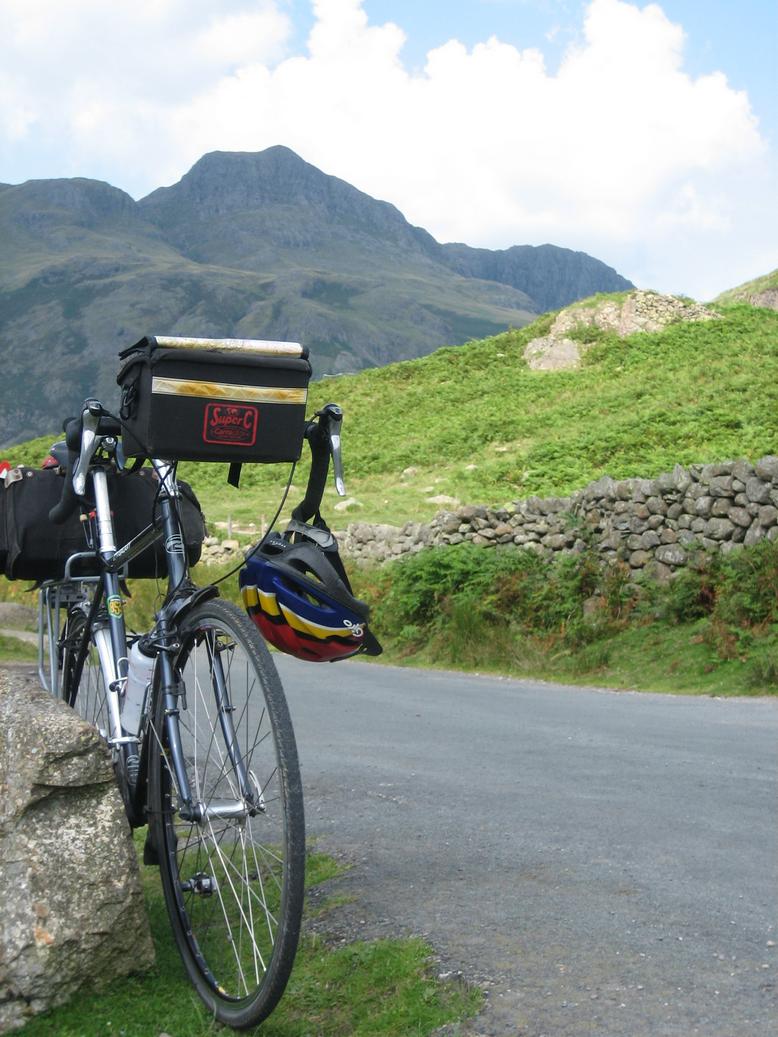 After a hearty cooked breakfast on Saturday morning, we set off riding south to Cartmel. We had a look at the racecourse and then continued onto Grange-over-Sands. Turning north we headed through Lindale, and got onto a wonderful quiet country lane which took us past Low Tarn Green, Swallow Mire, Bridge Ho, Bowland Bridge, and Borderside before reaching Winster where we stopped for a pub lunch. Then on minor road up to B284, and then heading for the Bowness Ferry. My father then had a mechanical problem when his derailer snapped. Follwing a temporary repair, to allow him to use only one gear, we did a detour of about 5 miles to the Wheelbase cycle shop at Stavely where a new derailer was purchased and fitted. We then headed back via Ings and a minor gated lane to the Bowness Ferry. The crossing of Windermere only takes about 10 minutes and we then headed back down the west side of the lake to Newby Bridge and Fiddler Hall. Distance 44 miles at an average speed of 9.2 mph. All 8 of the party went out for an enjoyable evening meal at The Crown, bar restuarant in nearby High Newton.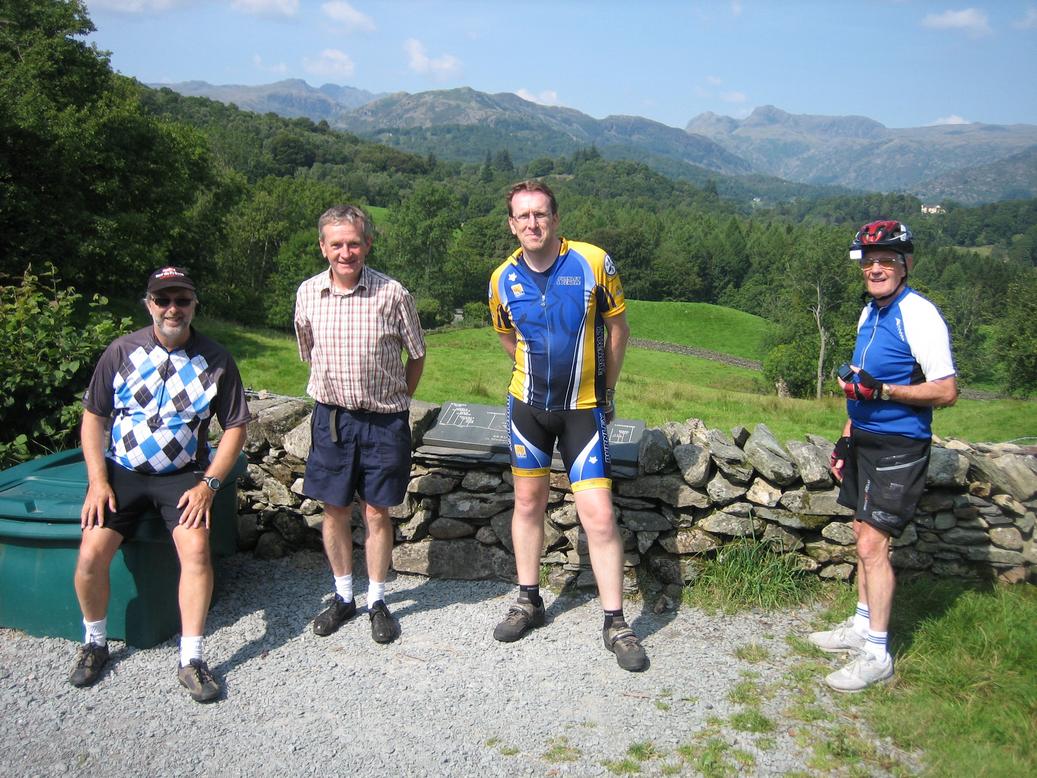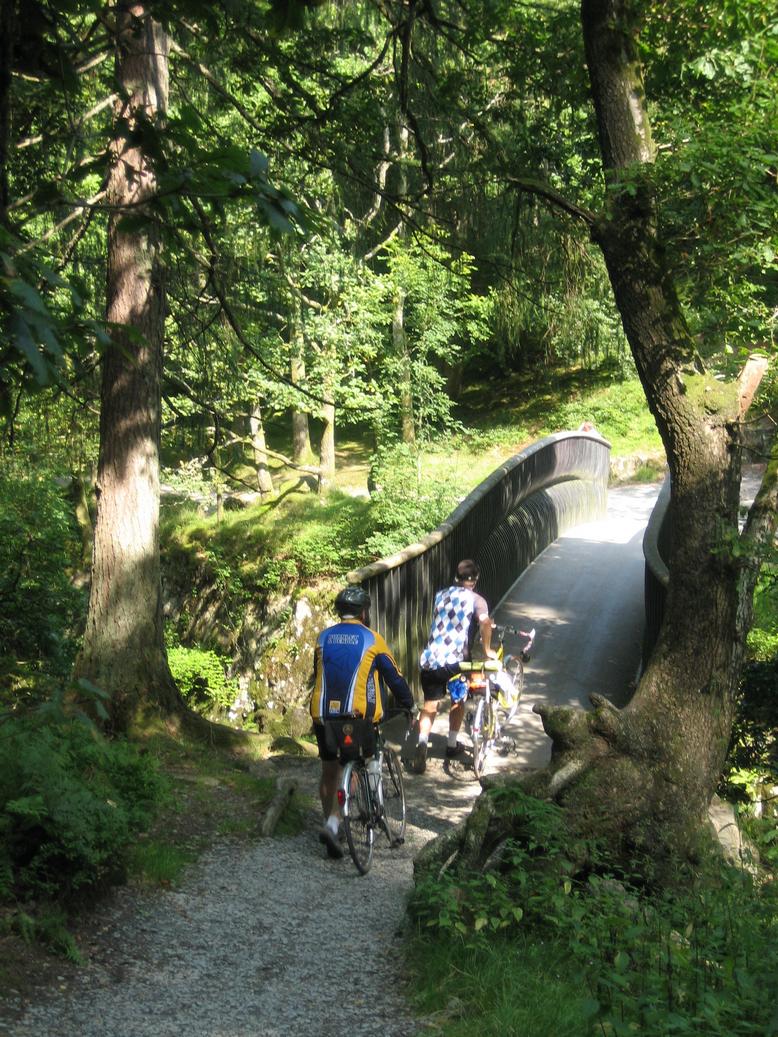 On the Sunday we set off, after another hearty breakfast, up the west side of Windermere, through Hawkshead and turned left, just before Clappersgate, onto a minor road and then cycle path to Skelwith Bridge and onto Elterwater where we had lunch at the Britannia Pub. The weather was again glorious, as we sat outside for our lunch. We then continued along Great Langdale, through Chapel Stile, then up the steep climb at the end of the valley and past Blea Tarn, before dropping down into Little Langdale. Our ride then headed to Coniston for an afternoon tea stop then down the east side of Coniston Water and back to Fiddler Hall. Distance 48 miles at an average speed of 9.5 mph.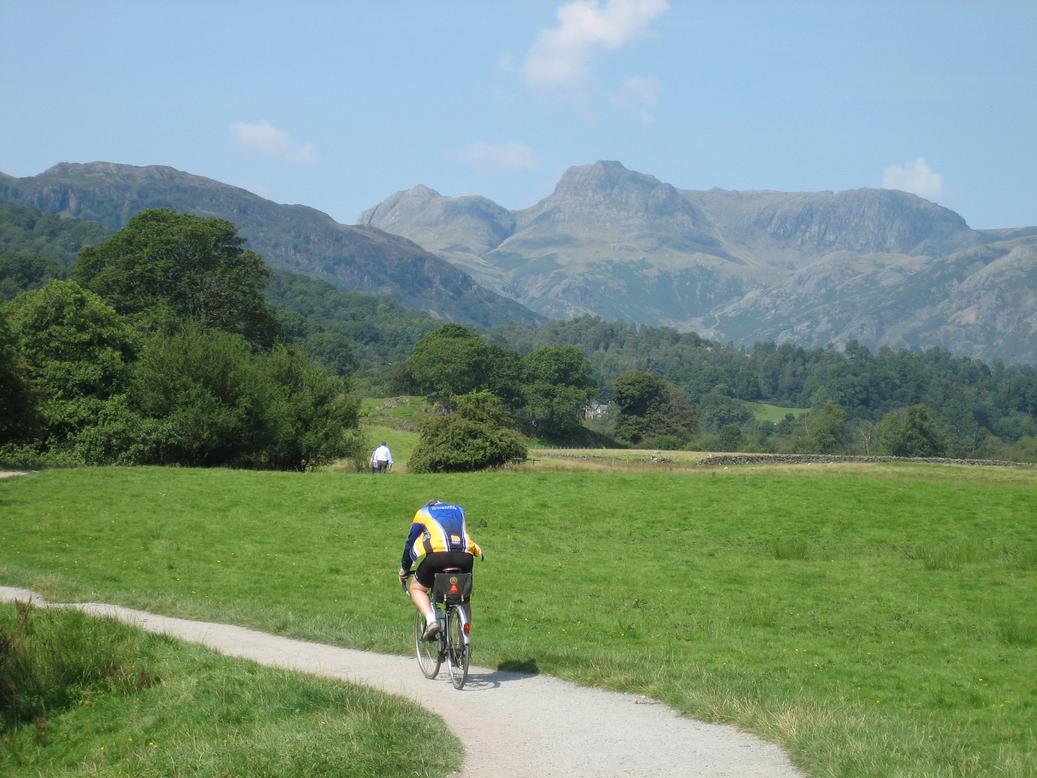 The people staying in caravans, had another nights stay booked, but after saying our goodbyes the rest of us now had the car drive back home. Everyone had really enjoyed the weekend and the talk was of where to go for the next trip. By John Ramsden.