Sunday, 24th July 2016, saw 19 riders from Burnley and Pendle CTC and Blackburn and District CTC set out from Whalley bus station on our 100km challenge ride.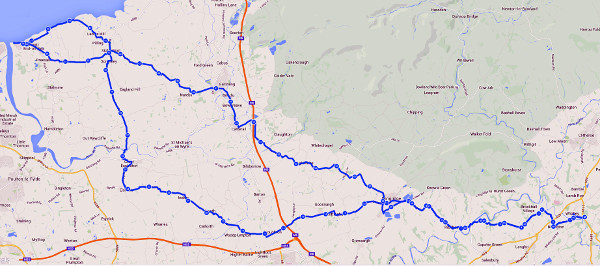 Our destination today was Knott End, heading out on familiar roads through Ribchester and Longridge where we took the B5269 to Broughton, Elswick and Great Eccleston. It was a dry morning, with just the chance of the odd shower in the afternoon. Once the terrain had flattened out, as it does as you head towards the coast, the pace picked up, and we soon made our way through Pilling and over the Toll Bridge at Cartford.
We then headed up through Stakepool and on to Knott End were we had a well earned lunch at the Knott End Cafe, just escaping a heavy downpour. After lunch, the rain had stopped, and we enjoyed a good view over the River Wyre to Fleetwood's North Euston Hotel and Lighthouse where we could hear a brass band playing at the launch of their new lifeboat.
We then headed around the coast taking the coastal path for a mile or so, with Heysham powerstation clearly visible across Morcambe Bay.
Heading back inland through Nateby towards Garstang, and the clouds were gathering. Waterproofs were donned, the rain stopped, and the waterproofs came off again. A process which was repeated several times as we passed through Inglewhite, back into Longridge and on to the finish by the bridge over the Ribble at Ribchester.
A big congratulations to all those that finished.
Except, that wasn't the end, we'd set off in Whalley, so we had another 7 miles to ride back home, so our 100km turned into about 110.