After days of heavy rain, and many areas suffering from local flooding, our last ride of the year couldn't pass without comment.
Fortunately, the rains had stopped, the sky had cleared, and we had a glorious sunny day to work off our over indulgence over the Christmas festivites. We did approach this ride with caution though, as we didn't know what the road conditions would be like. However, the waters in Foulridge, Earby, and Gargrave had subsided, and we had a very pleasant run from Langroyd up to Thornton where we collected the girls.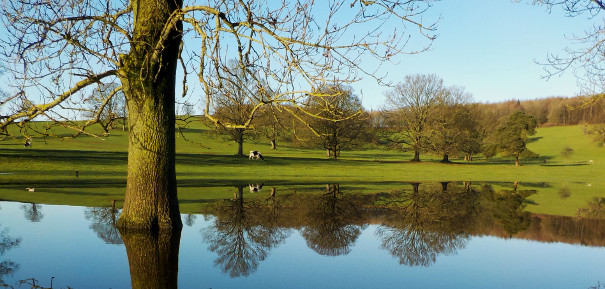 Fantastic reflections across a flooded field in Eshton.
There were signs of flooding on many of the roads, as we worked our way up through Gargrave, through Hetton to Cracoe for our lunch stop. Unfortunately TJ's was closed, so we had to goto the alternate cafe across the road. Eleven cyclists turning up unexpected, isn't what they're used to, but they found us "room at the inn" and we settled down to a very pleasant lunch.
Still sunny on the way back, "somebody" suggested taking the road through Winterburn, where the puddles started getting bigger, and bigger, and BIGGER! If we'd known in advance that the last 50 yard stretch got upto around 12 inches deep, I'm sure we would have found another way, but ignorance is a fine thing, and onwards we went, creating quite a wake, loads of spray, and barrels of laughter.
Lets hope that everybody's shoes have dried out for 2016 and it's every bit as good as 2015 has been.