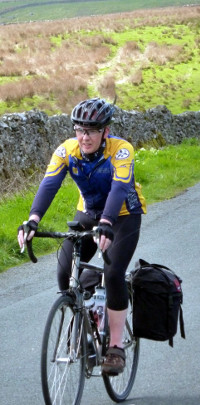 Details have now been finalised for the Walney to Wear coast to coast trip in May. A summary of the itinerary can be found below.
The route starts at Walney Island, Barrow in Furness and traverses northeastwards to Wear, Sunderland, a distance of approximately 152 miles. The route takes in the southern Lake District, Orton Fells, Eden Valley and the North Pennines offering outstanding scenery along with some steep and long climbs. The highest point of the route is 1,732ft at Tan Hill, the highest pub in Britain.

Thursday 12 May - coach + bike pickup in Barrowford at 6pm, travel to Barrow in Furness (approx. 2 hrs). Accommodation in twin room. Bed and breakfast.
Friday 13 May - ride to Shap, approx. 65-70 miles. Stay at Shap. Accommodation in twin room. Bed, breakfast and evening meal.
Saturday 14 May - ride to Bishop Auckland, approx. 65 miles. Stay at Bishop Auckland. Accommodation in twin room. Bed and breakfast.
Sunday 15 May - ride to Wear (Sunderland), approx. 25-30 miles. Coach + bike pickup at Wear 2pm, travel back to Barrowford.

The current cost is £220 but this may change slightly depending on numbers (based on 12 riders but there is the potential to expand this to 14 if needed).
You will need to carry your own gear for the trip as there are no luggage transfers. You will also need to provide your own meals other than those provided above, although we normally try and book the evening meals in advance so that we know there will be a hot meal at the end of the day. We have normally made use of local cafes etc. on previous trips for lunch and brew stops.

Looking at the terrain, the ride will be quite challenging especially with luggage and you should be confident of being able to complete the daily distance. There are details of the route on the sustrans website.
If you wish to discuss the trip, please contact Matt Hargreaves on 07730988043. A £60 deposit is required to secure a place with the remainder being due by Friday April 15 2016.